President David Granger on Sunday attended a ceremony organised by the Cuffy 250 Committee in commemoration of the 250th anniversary of the Berbice Slave Rebellion. The event was held at the Critchlow Labour College.
The President in his remarks spoke at length of the need for an economic change and the rebirth of village economies in Guyana. He said this change requires a cultural revolution which would allow citizens to think of the consequences of the economic decisions they make on a daily basis.
He said too many young people today are focused on seeking salaried employment rather than wanting to venture out into the world of manufacturing and exporting and maximising their productive potentials.
"If we are going to construct a new economy we have to make economic decisions… If we are to revive those village economies we have to make use of those lands which were bought 177 years ago and which are still available for production and development. If you are going to solve the employment problem do not expect some magical government to give you jobs in the police force and the army, you are going to have to create jobs within your communities," the Head of State said.
On the issue of national unity, the President said that Guyana was born broken and there are people with a vested interest to keep the country broken and divided. He noted that the country cannot move forward as a nation with sections of society preaching disunity.
"We need to reinforce the political party system in which all Guyanese can sit at the table and resolve their problems in an inclusionary manner. That is why have been advocating shared governance and inclusionary democracy," he said.
He noted that while Guyana's six peoples can and must be proud of their respective ethnic origins, there is need for citizens to rediscover themselves as Guyanese. He said that a greater sense of national identity needed to be developed and stated that no group or individual should feel marginalised or discriminated against.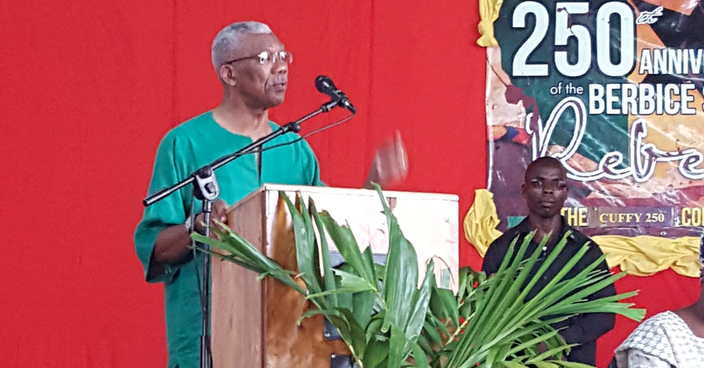 On the issue of national security, the President spoke of transnational crimes such as drug-trafficking, human-trafficking and gun running, which have permeated the society because of the country's porous borders. He explained that many of the dealers of the narco-trade have become very rich but that wealth came at the price of many innocent lives.
"Unless we make this country safe for our women and children we will always have an unstable environment. Investors will not come if they feel that their fishing boats will be raided by pirates. Investors will not come if they feel that their gold mining operations will be attacked by bandits….this is another matter that we have to put on the table in our discussions today as we go forward to our 50th Independence anniversary," President Granger said.
Many of the violent crimes, he said, are sponsored by rich dealers who perpetrate violence in order to promote their illegal agenda.
The President spoke of the rising of education apartheid, whereby a large number of students are dropping out of school at an alarming rate of 500 every month and said this is why the Administration is focusing on the Every Child In School (ECIS) initiative.
He called on citizens to make a resolution to ensure that no child in their community are denied an education because of their inability to afford the necessities such as food, uniforms, books and transportation.
"You will see the change when we have an educated nation…it is now the responsibility of Government and I am the head of that Government but it is also the responsibility of families," the President said.
The Cuffy 250 Committee is made up of a group of Guyanese in the United States and Guyana who came together in 2013 to observe the 250th anniversary of the Berbice Revolt, led by Cuffy, against the slave system. It is dedicated to encouraging socio-economic and cultural revitalization within the African Guyanese community and the fostering of ethnic and racial equality in Guyana. (MOTP)