Following the Opposition Leader's decision not to agree to the President's nominees for the positions of Chancellor and Chief Justice, President David Granger intends to consult his legal advisors before moving forward with the process, but he does not intend to offer new nominees.
The President spoke to News Source today and when asked if he now intends to look for new nominees for the two posts, his sharp answer was "no".
He pointed out that "the problem that has arisen now will be examined by my legal advisors and an announcement will be made, but we needed to have the substantive appointments and he has not advanced any reason why he could not confirm and we just have to accept the situation as it is now".
President Granger nominated Guyanese born, Chief Justice of Belize, Kenneth Benjamin for the position of Chancellor and current Acting Chancellor of the local Judiciary, Justice Yonette Cummings-Edwards for the Chief Justice's position.
The Constitution requires the President to nominate persons to the two top posts, but the appointments could only move forward with the agreement of the Opposition Leader.
That requirement has been the reason why Guyana has been without a substantive Chancellor of the Judiciary for over 15 years.
President Granger today told News Source that while he is not surprised by anything that comes from the Opposition Leader, he thought that after an entire month to consider the nominees, the Opposition Leader would have offered his agreement.
According to the President, there is nothing about the characters of the two Judges that should block their appointments as Chancellor and Chief Justice.
"My expectation yesterday was that having waited a month on the Leader of the Opposition, we would have moved forward and gotten this entire controversy about consultation and agreement behind us. As a nation 52-years-old, we need to agree on these issues. I don't think there is anything in the character of the two persons that ought to have prevented a selection. They are fit and proper persons", President Granger said.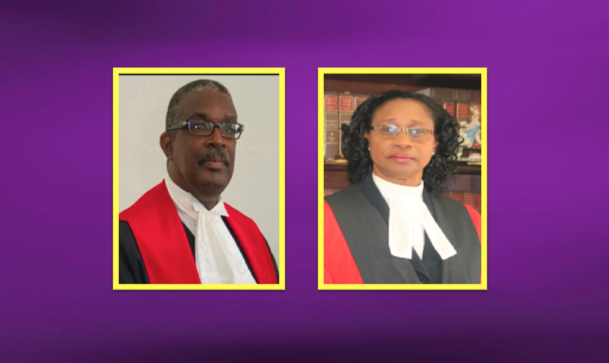 He said he would not want to comment about whether Mr. Jagdeo's decision to turn down his nominees may be payback for his decision to turn down Jagdeo's nominees for the Chairman of the Elections Commission and move ahead with his own appointment.
While the GECOM appointment allowed for the President to move ahead with his own appointment if he did not choose one of the Opposition Leader's nominees, the situation that exists for the top judicial posts is very different since there must be agreement. No other option is available in the Constitution, according to Legal sources.
President Granger told News Source that there must be substantive appointments to the top two Judicial posts, since having persons act in the positions for a long time indicates movement could take place and that is not good for justice.