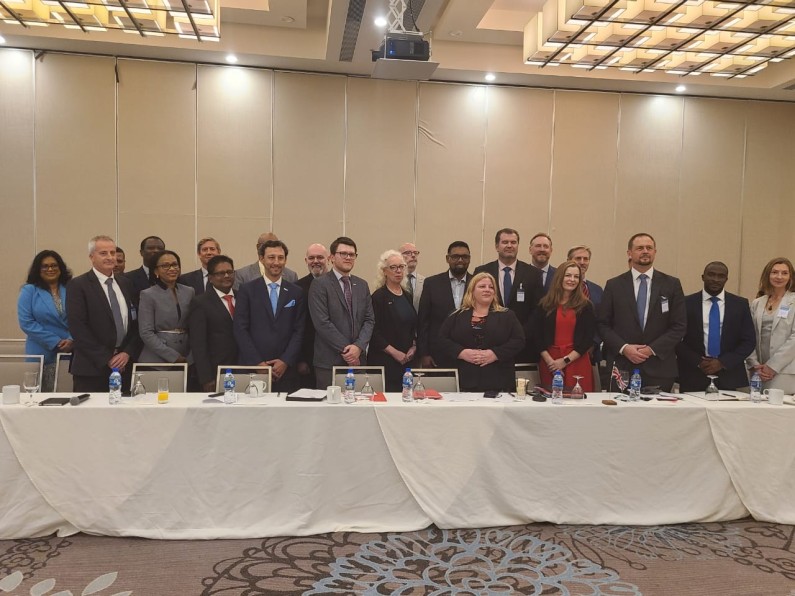 President Irfaan Ali today urged British investors to put their money in Guyana's Infrastructure, Housing, Education, Technology, and Agriculture Sectors, promising that there will be incentives for those who invest now, even as his Government workS to reduce the cost of energy.
The Guyanese Head-of-State made the call shortly after his Foreign Affairs Minister, Hugh Todd signed a UK-Guyana Partnership Agreement with British High Commissioner, Jane Miller in the presence of UK's Trade Commissioner to Latin America and the Caribbean, Jonathan Knott.
Addressing the UK Trade Mission at the Guyana Marriott, President Ali said there is also room for investment in the areas of health, research and development, tourism, manufacturing and agro-processing.
He said investment in these key sectors will help Guyana to better position itself even as it aims to reduce the cost of energy by 50% by 2025.
"You don't want to be coming on stream when that occur, and it will occur, and I am telling you 2025, 50% cut in energy cost because that's it, that's the policy. You need to have your infrastructure in place for manufacturing, industrial development and understanding the geographic significance of Guyana and the market we are connected to because Guyana is going to become a major industrial manufacturing agro-processing hub," he said.
Those who invest now, he said, will benefit from incentives. "We are going to give the incentives during this phase of development for investors who are coming in to make use of this opportunity but that phase wouldn't last forever," President Ali said.
Describing this phase as the "period of actualization," the President reasoned that though investors in the manufacturing, industrial development and agro-processing sectors may not immediately receive overwhelming profits, they will benefit significantly in the long run.
"Take a shot at it," he told the investors as he pointed to the developments in the Stabroek Block, Offshore Guyana where petroleum is being produced a rapid pace. Looking ahead, President Ali said the country's Natural Gas Project will not only augur well for Guyana but for South America and further afield.
"When we finish the National Strategy on Gas, when that comes on stream that is going to have enormous potential not only for Guyana but along the Guiana Shield. The prospects of northern Brazil being integrated into what we do here, especially apart of the logistic chain will be key in improving our capacity and our level of production," he explained.
The UK Trade Commissioner Jonathan Knott said the UK stands ready to support Guyana in its pursuit to achieve its vision of having transformational and sustainable economic growth that is faster, fairer, greener.
"We would like to help you deliver that vision. British business would like to help you deliver that vision," he said.
Mr Knott said the UK Trade Mission is here in Guyana with the intention of collaborating in critical areas and the partnership agreement is intended to concretise those areas of development.
The UK-Guyana Partnership Agreement is expected to give rise to the formation of a joint working group and its Mr Knott's expectation that the working group will define and deliver a time-bound action plan.
"We expect the working group to deliver the innovation, the technology, the knowledge, which is needed to support faster, fairer, greener growth in Guyana," he said.
He urged the joint working group to further commercial collaboration between the UK and Guyana in the areas of infrastructure, education, technology, housing and agriculture.
"We hope to identify further commercial collaboration between the UK and Guyana to support the development and implementation of Guyana's national infrastructural plan…that would ensure an integrated approach to infrastructure planning, project management, which makes your government's vision for rapid development modern [and] green," the Trade Commissioner said.
He also spoke of British companies helping Guyana achieve its vision of haviss world-class cutting-edge education system, and also in the area of Agri-technology, and renewable energy.
He made it clear, however, that the UK will not comprise on standards and quality.
"While the UK will offer excellent value, excellent expertise, we absolutely will not compromise on quality," Mr Knott said.
High Commissioner Miller said the move to deepen and strengthen economic partnership with Guyana stemmed from President Ali's visit to the UK in April when he met then Prime Minister Boris Johnson.