President and Chief Executive Officer of ECO Atlantic Oil and Gas, Mr. Gil Holzman believes Guyana is probably the best investment destination in the world currently. The President of ECO Atlantic Oil and Gas, which has a stake in oil and gas exploration in Guyana, also has confidence in the country's ability to transform over the next two to ten years.
His remarks were in response to statements made by President David Granger at a London investment event. During a presentation, the President noted that the country has the most exciting investments prospects in the Caribbean.
"With everything combined together under the management of the President and his administration, I think the next two to five to ten years will be very transformational and again, from my personal perspective, this is probably the best investment destination in the world at the moment," Mr. Holzman said.
President Granger and Mr. Holzman were part of a panel, which included Minister of Foreign Affairs, Carl Greenidge, British High Commissioner to Guyana, Greg Quinn and Andy Thorne, Group Chairman of the Kestrel Group, which is involved in the shipping industry in Guyana.
The President is currently visiting the United Kingdom and wrapped up the second day of a three day visit yesterday. According to a statement from the President's PR team, Mr. Granger sold Guyana as an exciting investment destination with several advantages and opportunities.
"We have the land, we have an intelligent English-speaking population, we have the resources, and I think people who are looking for something different; something unique, will come to Guyana. I am not suggesting that you leave Belize or Antigua or Barbados but I am suggesting for long-term development, Guyana is the best prospect for investment," he said.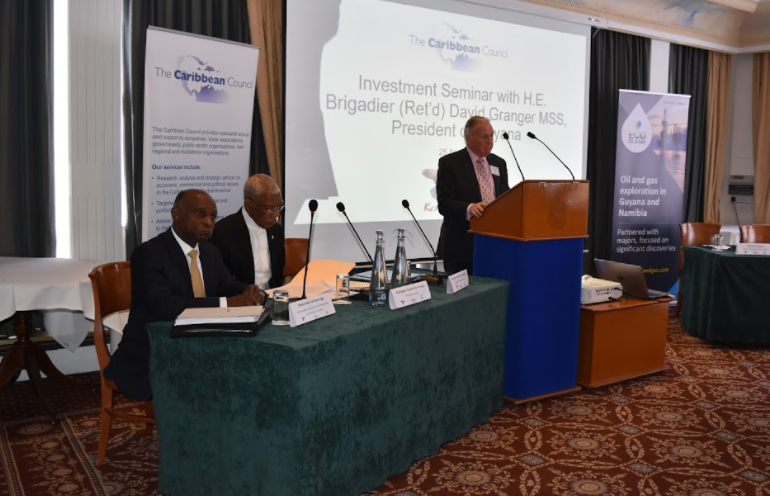 President Granger painted a picture of Guyana's potential and the 'green' State development policy, which would see it taking advantage of its eco-tourism product, preserving its environment, pursuing 'green' energy development while taking advantage of coming oil and gas revenues to accomplish these goals, declaring that even as the country transitions, it has to 'walk on two legs'.
Even as the administration says it is working to steadily improve Guyana's reputation as an attractive investment destination, President Granger told those gathered that progress is already being made, with regard to the legal and regulatory environment.
This he said, combined with the fact that Guyana, the only English speaking country on the continent of South America, has a similar common law, parliamentary system and institutional infrastructure that can be found in other Commonwealth countries means that there would be some ease of doing business for companies from those parts of the world. "We can assure that your profits can be repatriated. We can assure you that our legal system, our Judiciary, our Ombudsman, our Auditor General, our elections are all entirely in consonance with what is required in Western Europe and the Commonwealth."
Only last year Guyana hosted Local Government Elections, which under the previous administration had been suspended for nearly two decades.