Newly commissioned officers of the Guyana Defence Force have been encouraged to always hold on to their dignity and not allow temptations to lead them astray.
The charge was given to the new officers by President Donald Ramotar at the Commissioning parade for the new officers of the Guyana Defence Force on Wednesday.
The President said "dignity is extremely important. Do not allow temptations to take away your dignity because once that happens you will never be able to regain it and I urge you for your own good and the good of your family and the good name of this organisation, to always maintain your dignity".
Mr. Ramotar also called on the officers to be professional in their careers since professionalism will serve as an important factor as the country moves forward with their help. He also told them they should focus on their integrity. "I urge you as officers of this great organisation to always keep your integrity".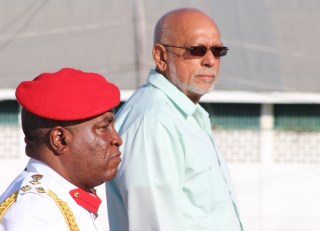 The new officers were told that they need to also focus on responsibility as they build their military lives.
The President also reiterated his call for army ranks to act in accordance with the constitution when conducting their duties, in a non partisan and professional manner, during the upcoming General and Regional Elections. He stated they must inspire confidence in the Guyanese people and demonstrate to the world that "we are a mature people, with the ability to make the right decisions, based on our circumstances".
Eighteen officers including one female completed the programme.
Taking the Best Student prize, Brazilian Armed Forces Award, Venezuelan Armed Forces Award and Sword of Honour was 99921 Second Lieutenant (2Lt) Lewins Langellier, 999201 2Lt, Noel August was the Runner-up Best Student, Best Drill and Best military Knowledge was 999204 Winette Smartt. The only female on the course and Best Shot and Fitness Awards went to 999240 Ancel Tench of the Belize Defence Force.
The other new officers are Keon Stoby, Anand Persaud, Worren Mars, Robin Rogers, Jashawn, Norville, Kevin Sultan, Kaya Dover, Neil Mc Donald, Shaquone Prince, Shane Ramphal, Gevon Mc Almont and Patrick Farley -Grant. They joined more than 596 officers who have been trained locally for the local joint services and Caricom states, since training began in 1981 at CUPOCS Base Camp Stephenson, Timehri.
Filed: 12th February, 2015