As Guyana gears up for early elections, a group of supporters and activists of the governing APNU+AFC coalition picketed the Guyana Elections Commission today to press the Commission to continue with its house-to-house registration and ensure a clean list for the elections.
With the Caribbean Court of Justice ruling that the no-confidence motion against the government was validly passed in December, elections are likely to be held before the end of this year.
The Opposition wants elections to be held with the recently expired voters list, while the Government has been pressing for house-to-house registration to be completed as a way of ensuring a clean list.
That view was repeated today by the protesters. Many of them expressed concern about young voters and first time voters who might find themselves off the list of electors.
AFC Executive Member and Former Deputy Mayor, Sherod Duncan, told reporters that it is clear that the young people of Guyana stand the greatest chance of being disenfranchised if the concerns are not addressed.
He said "we know that thousands of young people would have turned 18 since the advent of the last list and so we have to go back to house-to-house, if for no other reason, to ensure we do not disenfranchise an entire generation of our young people'.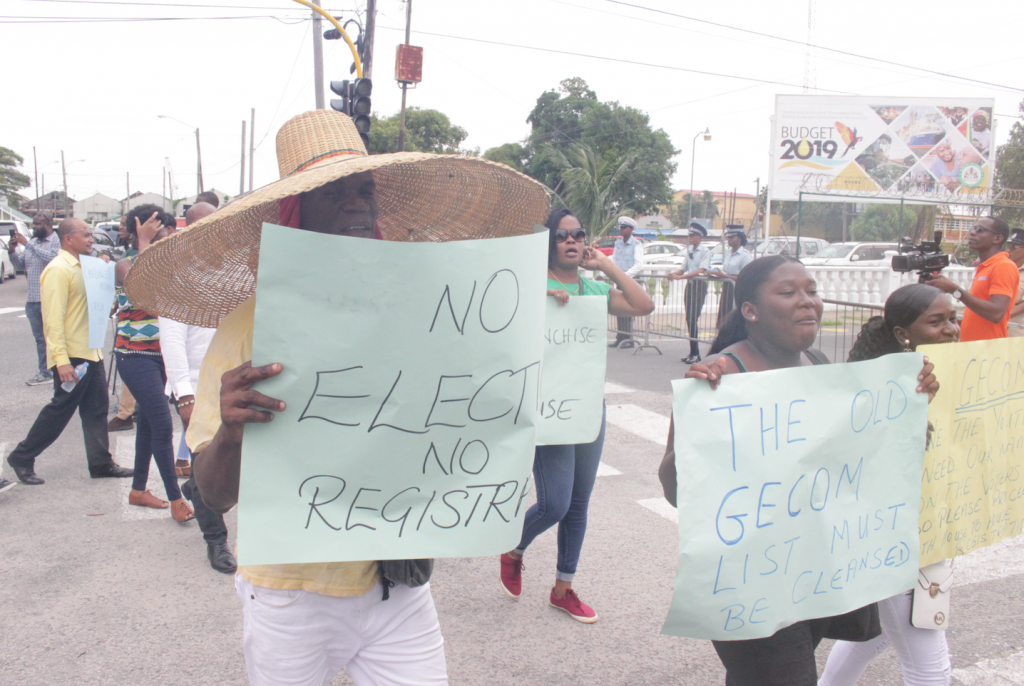 Duncan said he hopes GECOM will remain committed to carrying the house to house registration.
The Chairman fo the Guyana Youth and Student Movement, Ryan Belgrave said there must be house to house registration and a clean list.
The GYSM is the youth arm of the People's National Congress, which is the largest party in the coalition.
According to Mr. Belgrave, the protest today was meant to send the message to GECOM that the youths are unprepared to head into elections without a credible list. He said it would be unfair for the process to leave anyone off the list.
Similar views were shared by the AFC's Michael Leonard who told News Source that those who need to be on the list must be allowed to be placed on the list while those who ought to be removed , should be removed.
Attorney James Bond, who is a member of the APNU said he cannot understand why any party would want to rush into elections without a list that would ensure the transparency of the elections.
The protest also got the support of two government ministers along with the Mayor and Deputy Mayor of Georgetown.