Admitting that he takes ultimate responsibility for the escape of 13 prisoners from the Lusignan Prison, an embarrassed but defiant Minister of Public Security Khemraj Ramjatttan declared that there is now a war against the escapees and he wants the public on his side.
At an afternoon press conference at his Brickdam office, Mr. Ramjattan said although he takes responsibility for the current situation, resignation is not something he is currently considering.
Mr. Ramjattan declared that "resignation is not a word that I am normally associated with. I have gone through this political career, with a lot, but not necessarily worse than this but equivalent to this and I am still here and I want to believe that I will still be here when all of this is over".
He said the situation is an "embarrassment" for the security sector and the Government itself, which has a number of security experts within its administration.
"We have a literal war fighting, and if I am to go dealing with all kinds of dereliction of duty, it will not help the process. I am urging at this point that we don't go there", Ramjattan said.
The Director of Prisons, Gladwin Samuels explained that there were three layers of security that was in place at the Lusignan Prison and he believes the prisoners may have made their escape overnight during a heavy downpour in the area.
Prison Authorities only discovered the prisoners missing this morning after 7 o' clock when they conducted their count.
The prisoners were being housed in a wide open field in the Lusignan Prison compound. It is believed that they dug their way under the fence of the facility. A hole was found in the soil that was close to five feet in height and another five feet in length.
Most of the 13 prisoners on the run from the Lusignan prison were facing murder and robbery charges. They were taken to the Lusignan area following the fire at the Camp Street jail and the escape of prisoners from that facility three weeks ago.
Questioned about the security lapses, the Prison Director admitted that he was concerned that prisoners had access to mobile phones and internet even in the makeshift holding area. He said there have been efforts to sanitize the prisoners by doing additional security checks.
The Prison Director said prisoners who are considered "real men and otherwise", have been hiding phones in parts of their bodies, one might not expect.
Since the prisoners were moved to Lusignan, searches have unearthed more than 40 mobile phones.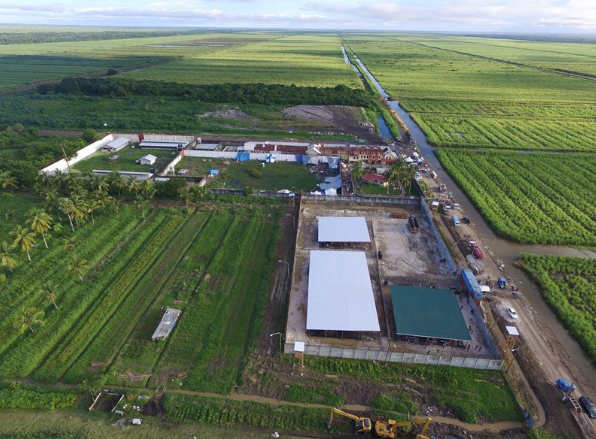 Samuels said prison authorities wanted to be careful how they dealt with the situation since it could have placed the lives of prison officers at risk, when they were dealing with already agitated prisoners.
Last week, at least two of the prisoners who were in the area, did live streaming on Facebook. The Prison Director said additional checks will now be carried out and security will be increased in wake of this latest jailbreak.
Acting Police Commissioner, David Ramnarine, told members of the media that there have been several roadblocks set up as part of a security response, which continues to be intensified. He is asking for the public's cooperation and for citizens to remain alert.
The Guyana Police Force is still to issue official photographs of the latest group of escapees and has indicated that it is being cautious because of lapses made the last time, with the photographs of prisoners who had not escaped, being released.
SEE LIST OF ESCAPEES BELOW: