The Government of Qatar has agreed to establish an embassy in Guyana, as Guyana and Qatar seek to deepen cooperation in a number of areas.
The Amir of the State of Qatar, Sheikh Tamim Bin Hamad Al Thani, paid a one day visit to Guyana on Tuesday and held meetings with President Irfaan Ali and a number of high level government officials.
At the end of the meetings, the two sides signed an agreement underscoring the importance of promoting bilateral trade and investment while noting the significant potential for collaboration in sectors such as agriculture, renewable energy, infrastructure development, and tourism.
The two countries also intend to encourage business communities from both countries to explore opportunities for partnerships and investment.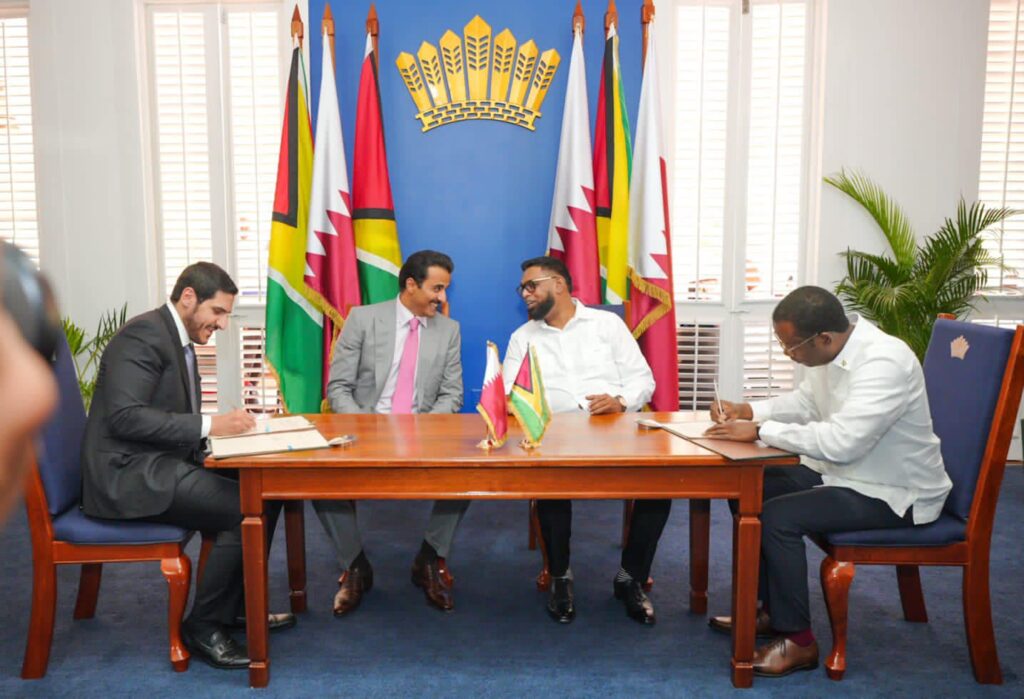 In an effort to enhance bilateral ties, Guyana and Qatar also signed an Agreement to encourage and protect mutual investment between the two countries.
An Agreement was signed regarding economic, commercial and technical cooperation between the government of the State of Qatar and the Government of Guyana, as well as a Memorandum of Understanding (MOU) on Legal Cooperation.
President Ali and the Qatar Amir also expressed their confidence in the prospects for enhanced cooperation between Qatar and Guyana and agreed to work together to further strengthen their bilateral relations.
A communique which was released after the meetings said both leaders expressed confidence that the agreements signed would provide greater visibility to the relations between the two countries in building bridges of cooperation