Four of the top five Guyanese students at the CSEC examinations are from Queens College, the Ministry of Education revealed today.
The CSEC exams were topped by Queens College student, Sarena Razak who gained 19 Grade Ones, 2 Grade Twos, and 1 Grade three.
She was closely followed by schoolmates La Shea Patoir and Zaynab Shaffie who both gained 18 Grade Ones and Roshina Samaroo who scored 17 Grade Ones at the regional exams.
Rounding off the top five is Abram Zuil Secondary student, Anuradha Basdeo who gained 17 Grade Ones and 2 Grade Twos at the exams.
Education Minister Priya Manickchand revealed today that there was a decline in the performance of students in a number of subject areas when compared to last year.
Over 9000 students wrote the examinations this year and the overall pass rate stands at 66.86%
"Improved performance was evident in four (04) subjects and remained constant in six (06) subjects. Outstanding performances were noted in eight (08) subjects where 90% and over gained acceptable Grades (Gr 1 – 3). Some subjects with outstanding performances were Agricultural Science (Double Award) with 93.14%, Information Technology with 92.59 %, Physical Education & Sports with 99.28% and Theatre Arts with 100 %. Grades One to Three passes in English A declined from 77.76 % in 2020 to 67.72% in 2021. However, the 2021 pass rate in English A was constant when compared to 2019 with a pass rate of 68%. English B recorded a pass rate of 53.45% in 2021. Mathematics moved from a pass rate of 43% in 2019 and 48.36% in 2020 to 31.6 % in 2021. Additional Mathematics recorded a pass rate of 58.87 % in 2021", the Minister revealed.
She said the pandemic and the lack of face-to-face learning continue to have an impact on the lives of students.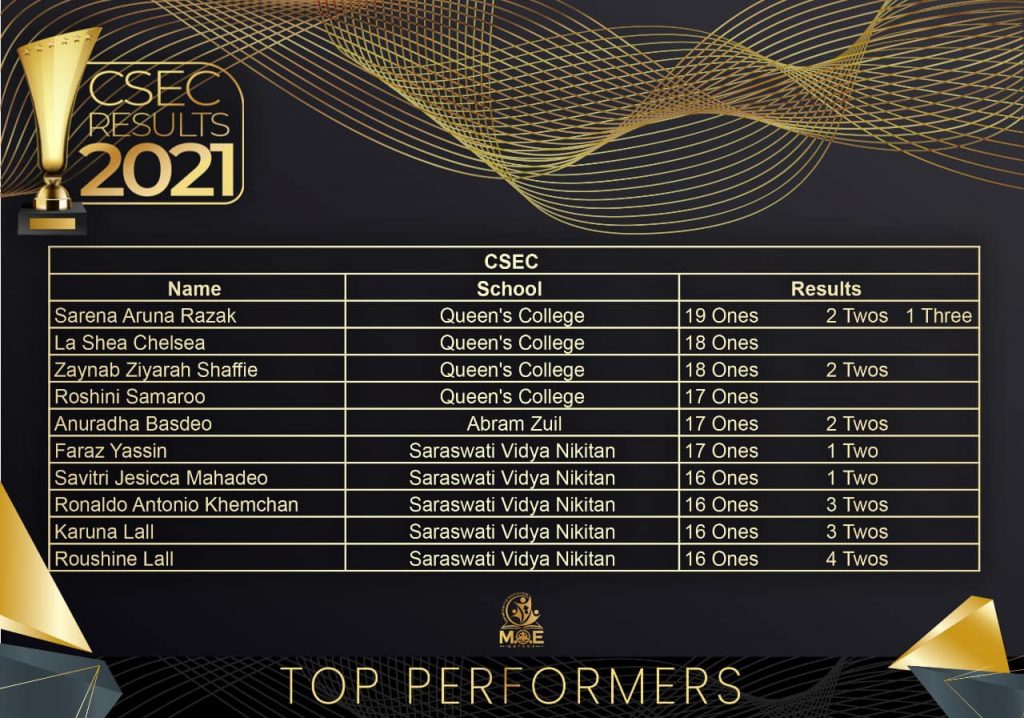 Still, the Education Minister said Guyanese students were able to perform well under the circumstances and the results in Guyana are much better than the results in other parts of the Caribbean.
With regard to the Caribbean Advanced Proficiency examinations, a student of the Saraswati Vidya Niketan school topped Unit one of the exams with 9 ones.
Queens College student Daniel Roopchand topped with Units 1 and 2 with 10-Grade ones and 1 Grade two.