Public Security Minister, Khemraj Ramjattan does not see the need for outside help in the investigation of Crime Chief, Deputy Commissioner Lyndon Alves.
Mr. Alves has been sent on leave pending the outcome of the investigations into allegations of corruption and misconduct.
Some of the allegations are coming from other members of the Police Force.
The Police Force's Office of Professional Responsibility is conducting the investigation.
At press briefing this morning, Public Security Minister Khemraj Ramjattan said he sees no problem with the OPR conducting the investigation, even if some persons see it as the Police investigating the Police.
"If I were to say that you do the investigation, people will have trouble with you and people will have trouble with anybody. But we have to build institutions in Guyana to the extend of letting them get integrity and reputation and unless we start doing that, nothing will grow in Guyana", he said.
While refusing to offer comment on the specific allegations against the Deputy Commissioner for Law Enforcement, Mr. Ramjattan said he knows that the OPR will be taking statements and those statements will be examined.
He said one cannot take a "suspect position" on the Police Office of Professional Responsibility conducting the probe.
He said "if you take that suspect position, then all Police investigations will be suspect…we have had investigations done by the OPR, hundreds and hundreds of times and they have all been respected because they could be analyzed".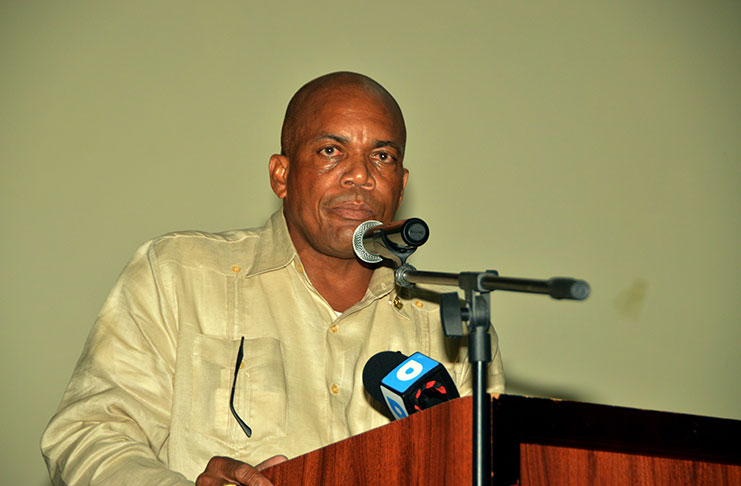 Mr. Ramjattan explained that whenever the investigation is completed, the file will be sent to the Police Force's Legal Adviser to determine whether charges should be laid or not.
The Public Security Minister said Mr. Alves was suspended from the Force by the Police Commissioner and thats part of the procedure for such investigations. He said if Mr. Alves is cleared of the allegations, he will return to duty.
Several junior and senior officers of the Police Force have leveled allegations against the crime chief.
He has been accused of corrupt practices involving a number of business persons in the Berbice area. He has also been accused of misconduct.
Mr. Alves has not responded to the allegations against him.