At the opening of the Agriculture Investment Expo this morning, various regional Heads of Government urged more support for the region's agriculture industry as they also called for the lifting of tariffs that continue to affect intra-regional trade.
Prime Minister of Antigua and Barbuda, Gaston Browne called on regional leaders to address the concerns of their sister CARICOM states.
He stated that "We need to move from rhetoric to firm decisions for the advancement of the region's agricultural sector achieving food sovereignty and food security. We must also resolve to act urgently in our own interests; including by honoring the terms of the Caricom treaty and not committing breaches of it by, let's say countries that from time to time impose these illegal non-tariff barriers on produce; particularly products from other member states."
Prime Minister of Barbados Mia Mottley said the region's leaders have a responsibility to be more proactive in allowing foods into their countries from other Caribbean states.
She noted that; "We have a responsibility now to change mindsets and to change policies. Our SPS regime, the sanitary phytosanitary regime must be modernized to ensure that safe foods can enter, circulate and exit the single economic space efficiently." She went on to express; "I will deal with it from our perspective because I am not pointing fingers at anyone. In Barbados we have a responsibility also to be more agile with respect to those things that we do to allow goods into our own territories from the region; as we will expect every other territory in the Caribbean community so to do because if we don't make the steps now to remove the barriers-God knows how we can create the productive base that President Ali has so masterfully drafted for us."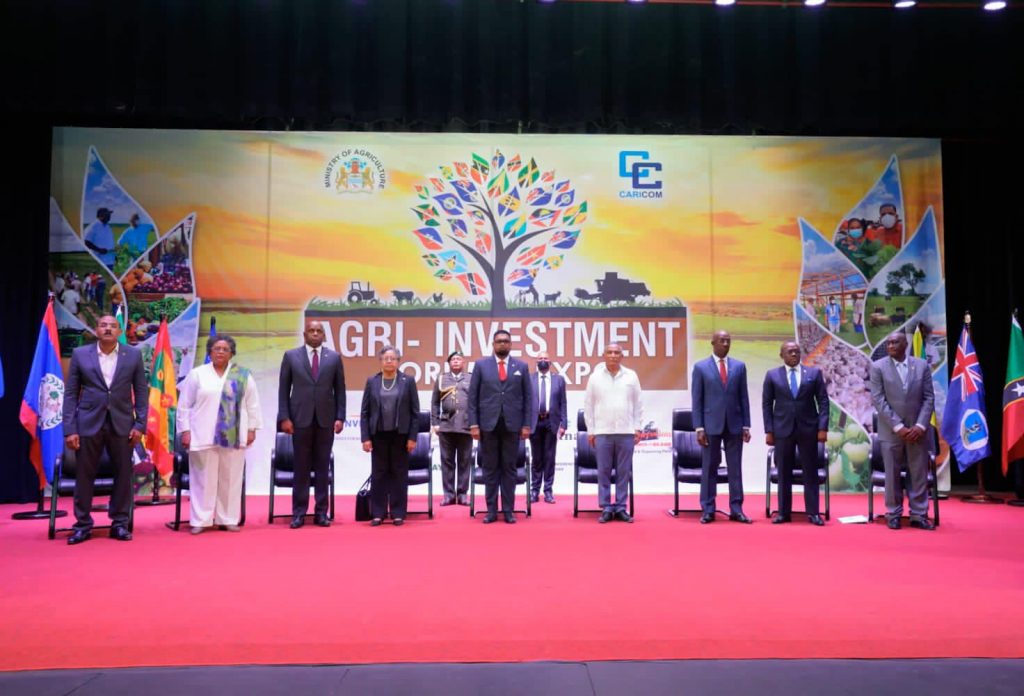 Dominica's Prime Minister Roosevelt Skerrit encouraged his fellow CARICOM leaders to continue to buy local and to support the economies of other sister states. He said Guyana continues to supply Dominica with produce like rice and sugar and he reiterated that as CARICOM nations there is an increased need to support each other first.
"We as governments, we speak about helping farmers but in the process of attracting jobs in the tourism industry, we give concessions to these hotels to import food from outside the region. Can we not address this and say let us first buy from your country and that which we can't find from your country -you can find from abroad from a sisterly county within Caricom", PM Skerrit said.
The statements by the regional leaders follow concerns from the Georgetown Chamber of Commerce about the tariffs that have been affecting the export of some Guyanese-made products and produce to Trinidad and Tobago.
The Guyana Government has said it continues to aggressively address that issue