As the Rights of the Child Commission continues to advance the interest of Guyanese children, it has expressed concern over the lack of access to secondary education in several areas across the country.
RCC's Chairperson, Ms. Aleema Nasir on Thursday said she was concerned that many communities are still crying out for "a basic thing like access to secondary education."
Ms. Nasir said this was particularly prevalent in hinterland regions and indigenous areas as she lobbied the government to ensure that the vital necessity of a secondary school education is provided in all areas of the country.  
She said in communities where there is no access to secondary education, families are forced to migrate in search of education. 
Nasir posited that this movement of people was leading to depopulation and underdevelopment of several indigenous communities.
She was particularly critical of moves to close several primary tops in communities where they once catered to children who could not afford to move onto the secondary schools for one reason or the other. 
"You have removed the safety valve that keeps impoverished children in school," she said. 
Nasir was at the time speaking at the opening of a Child Rights and Independence workshop where Prime Minister Moses Nagamootoo and Indigenous People's Affairs Minister Valerie Garrido Lowe were present. 
Lowe used the opportunity to notify the gathering that the government was "thinking" about the return of primary tops to these areas and villages where they once operated. 
The Minister said during her school years she attended a primary top and did "very well."
Primary tops usually cater for those children who have not scored a high enough grade to be accepted to a secondary school.
But the RCC has other concerns about the way the nation's children are treated with the Chairperson of the Commission criticising the security and justice system and the provisions for children.
Nasir said the Commission has done a lot of work to train the police in most divisions and carry out workshops for the legal fraternity.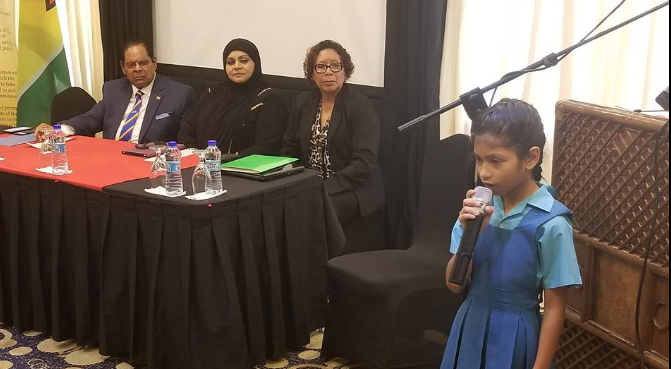 She, however, remains disappointed the children and young offenders remaining in penal institutions for long periods while they await trails and the lack of legal representation.
Nasir congratulated the Guyana Legal Aid Clinic for the work done in providing legal representation to children who come into contact with the law.
She is also pleased with the recent passage of the Juvenile Justice Law but noted that provisions for legal representation are yet to come into effect.
The passage of the juvenile justice law contemplates legal representation for children.
Nasir said even as Guyana observes its Independence, it must also look at the independence of its children and youth population.
This is the third annual independence workshop organized by the commission which brings together children from school in several regions.