Attorney General Anil Nandlall today informed Chief Justice Roxane George that he is currently engaging the Police Service Commission (PSC) and several senior Police Officers to resolve the controversy surrounding the Police Force's 2020 promotions.
He made the disclosure as the Chief Justice held another hearing on the application filed by Senior Superintendent of Police Calvin Brutus who is challenging the promotions.
Mr. Brutus wants the Court to quash the recent promotions of several officers by the Police Service Commission. His contention is that he continues to be overlooked for a promotion even after a recommendation from the Police Commissioner.
At least five other senior Police Officers have joined the Court action with complaints of their own over the promotions.
The Court action has created some tension and uneasiness in the Guyana Police Force.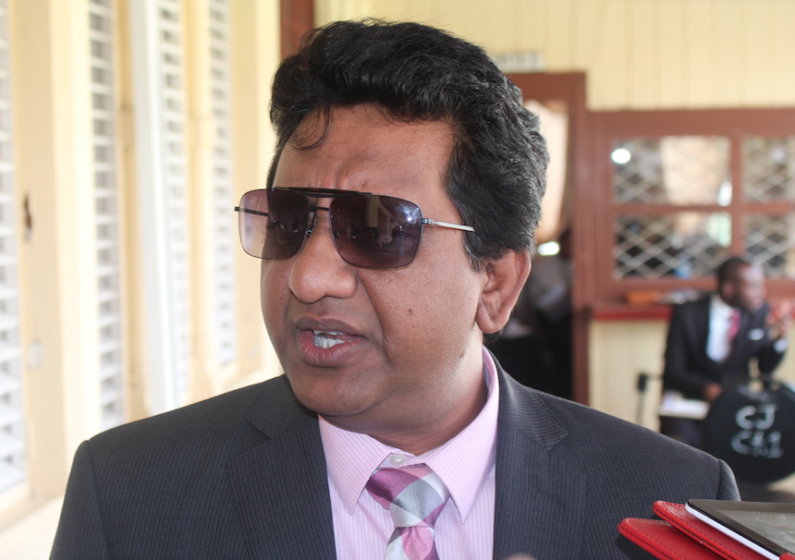 The Chairman of the Police Service Commission retired Assistant Police Commissioner Paul Slowe is currently in Bangledesh on security duties for the West Indies Cricket team.
He has been meeting with the rest of the Commission and the Attorney General via zoom. The next meeting is planned for this coming Friday and the Court hearing has been put off until the 5th February.
Under the Constitution, the Police Service Commission has the power to promote Police Officers above the rank of Inspector. It also has the authority to exercise disciplinary control over ranks holding or acting in such offices.
In his application, Senior Superintendent Brutus complained that he is
being bypassed for promotion owing to allegations of indiscipline leveled against him. He said he has never been given an opportunity to defend himself against the allegations.
He contends that it has been a practice for the Police Service Commission not to promote Police officers with pending disciplinary complaints regardless of the nature or seriousness of such complaints.
"Trivial and unsubstantiated complaints have been accorded the same weight as grave or serious allegations of indiscipline in denying promotion to those against whom disciplinary complaints have been lodged with the Commission", he has argued.
Through his Attorneys, Mr. Brutus has pointed out that although Senior Superintendents of Police Edmond Cooper, Kurleigh Simon, and Phillip Azore have pending disciplinary matters, they were still promoted to the rank of Assistant Police Commissioner by the PSC.
He said some of the allegations against those officers are far more serious than the one allegation against him. The senior Police Officer has also pointed out that he is better qualified than many of the officers who have been promoted over him.
He said he is the holder of a Bachelor's Degree in Public Management and a Bachelor of Laws Degree. He added that he is also the holder of a Master's Degree in Business Administration, a Doctorate in Organisational Development, and is currently pursuing his Legal Education Certificate at the Hugh Wooding Law School.
Justice George has granted a conservatory order halting the promotions until she pronounces on the matter or until a resolution favorable to all parties is met.