The Ministry of Public Security this afternoon revealed that two more prisoners who were believed to have escaped during the fire at the Camp Street prison, have since been accounted for and therefore it is now only six prisoners who are on the run.
The six prisoners who remain on the run have been identified as Mark Royden Williams, Ulee Varswyck, Stafrei Hopkenson, Cobena Stephens, Cornelius Thomas and Desmond James.
Investigators believe the four prisoners who hijacked a car and abducted its driver just after busting out of the Camp Street jail, are the ones who are still together. They are suspected to be Williams, Varswyck, Hopkenson and Thomas.
The other two escapees, Cobena Stephens and Desmond James, are suspected to have gone their separate ways.
The Joint Services are continuing a nationwide manhunt for the six escapees.
The Guyana Police Force is asking that anyone who may know of the whereabouts of any of the escapees to contact the nearest police station.
At an afternoon press conference, Minister of Public Security, Khemraj Ramjattan, also clarified that close to 300 prisoners have been transferred to other facilities and not released.
"Eighty three persons have been removed to the Mazaruni Prison, Ninety have been removed to the New Amsterdam Prison, Forty-eight have been removed to Timehri Prison and the early release that I granted total fifty-seven. For the Magistrates' release, twenty-six were placed on self-bail. And as a result of reduction of bails and bail monies being found, that totaled thirty four", Ramjattan said.
Ramjattan explained that those prisoners who were granted early release by him are prisoners who would have completed their sentences in the first week of August.
He said the release was recommended by the Prison Service and he intends to release the names of all those who would have been granted early release as well as those who would have benefitted from a reduced bail.  Those granted self-bail and reduced bail are mainly prisoners who were charged and remanded for petty offenses.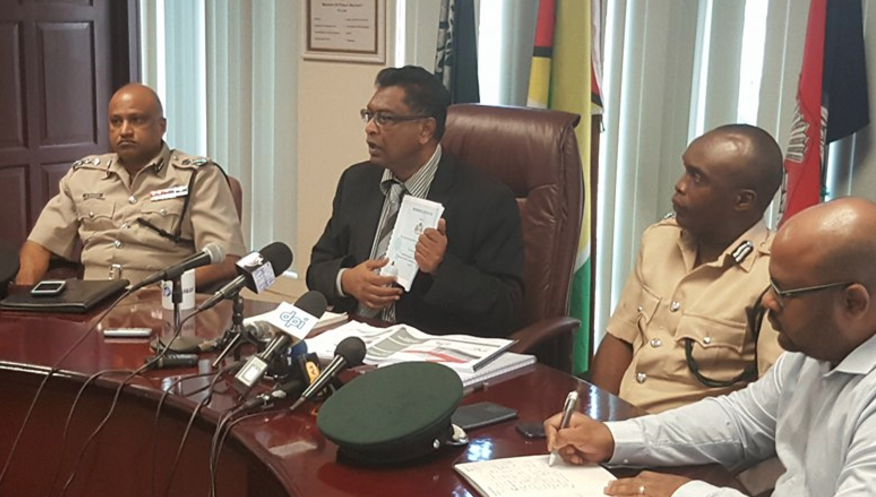 The Public Security Minister indicated that new structures will continue to be built to house the remaining prisoners at Lusignan and the section of the Camp Street Prison which was not burnt, is expected to accommodate over 200 prisoners, when repair works would have been completed to that section.
All of those works are expected to be completed within the new week.
Meanwhile, the Director of Prisons, Gladwin Samuels, reported that security arrangements remain in place and are a priority at the Lusignan Prison and the "wall area", where prisoners are being housed. He said there have been a few fights among inmates and one inmate was shot to the hand by a prison guard after he ventured to climb on top of the fence surrounding a section of the area.
Samuels admitted that there have been no raids for illegal items in the Lusignan"wall area" where prisoners are being housed since being transferred from Camp Street. He, however, stated that for those leaving the Lusignan  Prison to be transferred to other prisons, full security checks are made.
The Prison Director indicated that it was difficult to get an accurate count of the prisoners at first as many of the records were destroyed. But he noted that some backup records were secured and those were used to identify and account for prisoners.
The Sunday afternoon prison break and fire has resulted in the Camp Street prison being almost completely destroyed. A young prison officer was shot dead during the escape. He sustained five gunshot wounds. Investigators have pointed out that he appeared to have been running away from the escaped prisoners when he was shot. All of the bullets entered his body through his back.
Six other prison officers were injured during the attack. The probe continues.