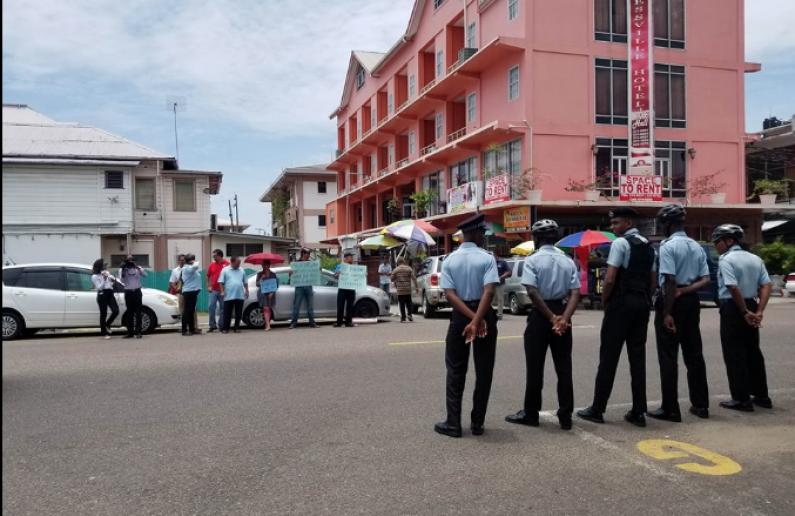 Police outnumbered protesters who braved the midday sun today to picket outside City Hall in a bid to block the return of paid parking in the city under a renegotiated contract with Smart City Solutions. 
A handful of protesters from the Movement Against Parking Meters, numbering no more than ten, held placards and demanded that officials within the Georgetown Mayor and City Council await the Court's ruling on the legality of the contract before allowing paid parking to return. 
While insisting that the contract was birthed out of illegality, one member of the movement, Marcel Gaskin, has filed objections to the recently revised bylaws for paid parking.
Gaskin said although the movement does not support the contract, it also believes that the M&CC needs to get it right with the by-laws which govern any contract for the implementation of paid parking.
With the possible return of paid parking and with the 14 days' notice for the revised by-laws about to expire, the Movement said it intends to up its protest action against the reintroduction of paid parking and wants the M&CC to await the Court's ruling on the matter.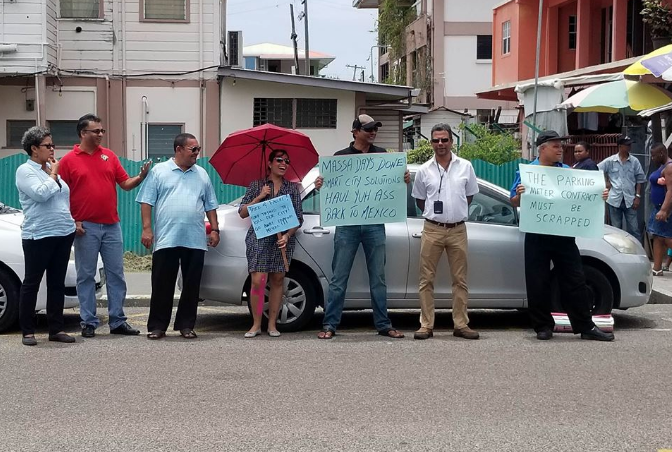 Gaskin and Jonathan Yearwood, who is also another supporter of the Movement told reporters on Thursday that the movement was not against paid parking in the city, but remains opposed to the process through which the M&CC was attempting to "force" it on the citizenry.
They raised objections to the lack of consultation on pricing and other factors and a failure to secure competing bids for the contract.
Asked about the dwindling numbers of protesters, Yearwood claimed that several individuals and businesses are now fearful of victimization once they participate in protest action.
Town Clerk Royston King looked on at the protest from the corridor of City Hall as the small picketing exercise lasted for just about an hour.
Several consultations were held on paid parking in the city after the initial by-laws were put on hold.