-by Dennis Glasgow-
While chanting remixes to nursery school rhymes and Sunday school songs during their protest today, many of the striking teachers expressed reservations about being at the forefront of the ongoing strike.
Some of them expressed worry that if they continue with the industrial action for a long period, they could lose a big chunk of their salaries.
A teacher from the Lusignan Primary School, who opted to remain anonymous, told News Source that "teachers are in school, but they are not working. It is not that they are not in favour of the strike, but you know, people are scared that their salaries will be cut and all these things".
Many other teachers echoed similar sentiments. But some said that they are willing to sacrifice a cut in their salaries for this "bigger cause".
Others explained to News Source that they are willing to work with students on the weekends to have them "catch up" with key components of the curriculum.
News Source also spoke with the General Secretary of the Guyana Teacher's Union, Coretta McDonald, who confirmed that the Union has reports about the concerns of the teachers.
"The teachers on the Essequibo Coast were being threatened by the Education Officers but from yesterday many more teachers have come out on the streets to make their concerns known to everyone", she said. 
Ms. McDonald went on to explain that there is nothing wrong with what they are doing, so teachers should not be fearful.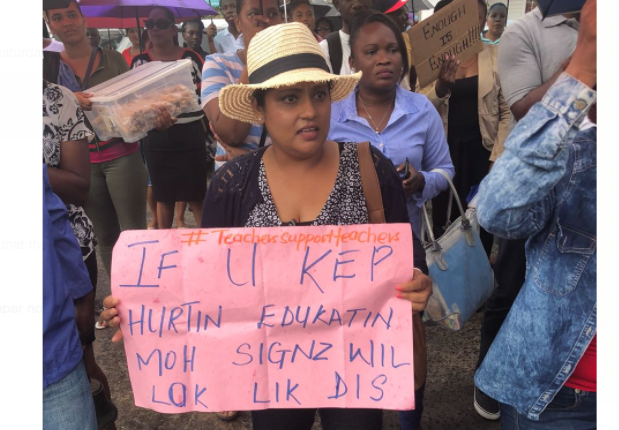 "We would want to say to our teachers that it is your right to strike. The constitution of this country gives us that right. If the conditions under which you work, they are not ready then you have a right to make your concerns known. I want to say to those teachers, Please don't allow anyone to intimidate you. They can't fire you. This is their right."
She urged other teachers who are still fearful, that they should come out and join their colleagues across the country and she assured them that the union has their back in the fight and will make the requisite demands when they go back to the bargaining table with the ministries.
"Let me say to the out there who are still scared, when we get to the stage where we going to resume normalcy; one of the conditions that we are going to be asking for, one of the conditions that we demand is that no monies be deducted from teachers' salaries. And two, that no victimization, no teacher be victimized for taking a stand, today or tomorrow or however long this here will take."
Some teachers who protested today in front of the Ministry of Education's Brickdam Office, came from as far as St. Cuthbert's Secondary School, Lusignan Primary on the East Coast and West Demerara Secondary on the West Bank of Demerara.