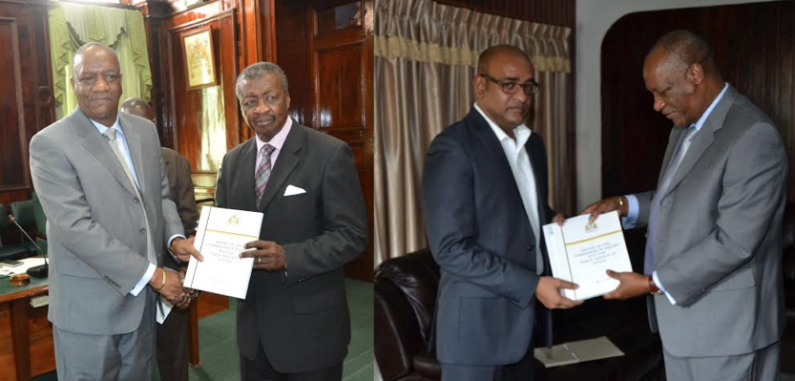 The Government of Guyana has handed over a copy of the final report by the Commission of Inquiry into the Public Service to the Speaker of the National Assembly and the Leader of the Opposition. Cabinet members received the report on Tuesday.
Minister of State, Joe Harmon who handed over the report on behalf of government, said the administration intends to consider the recommendations before it expresses a view.
"But we thought it was important that the Speaker gets copy even before Cabinet completes its review," Harmon said.
Dr. Scotland told the media that he was happy to have received the report and intends to have it laid in the National Assembly in the near future.
Harmon was tight-lipped on the recommendations of the Commission but promised that it will be publicized soon. The major trade unions will also receive the copies of the report.
When asked specifically about recommendations on salary increases for public servants, Harmon said he was not prepared to delve into those details. He did indicate that a framework within which salaries will be negotiated was outlined by the Commission.
Harmon said there are no directions on what should be done and explained that the government will depend on the collective bargaining process to move forward in that direction.
"It is a very detailed report and on behalf of the President, I would like to thank the Commission for an excellent job," he added.
During the 2016 budget presentation, the government had said that it was awaiting this report before moving ahead with the delivery of its promise to increase public servants' salary.
The Commission was established to inquire into, report on and make recommendations on the role, functions, recruitment process, remuneration, conditions and other matters pertaining to the personnel employed in the Guyana Public Service.
Several public servants and public service managers appeared before the Commission during its weeks of public hearings.
 Meanwhile, the Minister said the government has started to interview persons for the Public Service Staff College and has identified staff members. He also said that the re-integration of contracted workers into the professional public service has started with well over 100 contract employees already integrated.