The Opposition parties wielded their majority in the National Assembly on Wednesday night and slashed the budget for the Ministry of Health's Speciality Hospital. The $1.2 Billion project was slashed to zero as the Opposition parties pressed for greater transparency and accountability in the award of the contract for the hospital and its construction.
A disappointed Minister of Health, Dr. Bheri Ramsarran buried his face in his hands as the opposition voted down money for the project despite his best efforts to convince them not to go through with the cut.
The Opposition's contention was that the Government through the Minister of Health was not being forthright on the project and its costs and funding. The opposition parties have argued that the Government needs to come clean on all issues of concern surrounding the hospital's construction and establishment.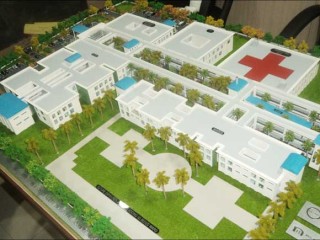 Alliance for Change Member of Parliament, Moses Nagamootoo told the Assembly that the cuts being made by the opposition were not "willy nilly" but rather they were in the national interest. He said there is the need for fiscal responsibility and not fiscal mismanagement.
The Finance Minister tried and failed to clarify some issues of concerns to the Opposition before they went ahead with the cuts. The Opposition parties have indicated that when the process is done correctly and in a transparent manner, it will enjoy the support of the entire National Assembly.
(Photo by Neilon Dias)