Sugar workers gathered at various locations across the country this morning in protest to demand an increase in their wages and salaries.
A group led by the Guyana Agricultural and General Workers Union (GAWU) staged one of the protests outside the Ministry of the Presidency this morning.
The union's President Komal Chand said the protest is aimed at getting the President's attention to an issue that they have been raising for several months.
He explained that a claim was submitted to the Guyana Sugar Corporation (GuySuCo) and following that move, both GAWU and GuySuCo met to discuss the issues.
According to Chand, GuySuCo has not been able to give a position as yet as to whether the company will provide an increase.
In addition to that, a petition bearing hundreds of signatures from sugar workers across the country was submitted to the President about two months ago, Mr. Chand said.
"He responded to say that he will send our petition to GuySuCo and will forward the response and he hasn't done so. I spoke with GuySuCo about two weeks ago. Up to then, they haven't gotten anything and they didn't tell us that they are waiting on the president, but it is clear in our minds, that they are waiting on some communication from Government," the union's president added.
Chand said he believes the President ought to make a decision that would force the sugar company to offer the increases.
"To go to a Minister other than the President, we believe it would have been an exercise in futility. Minister Holder has already taken a position. When we went to him, he said go to the Ministry of Finance and the Ministry of Finance said GuySuCo is under the charge of the Agriculture Minister", Chand complained.
He added, that "we feel that the protests will clearly send a message to all Guyanese about the way workers are treated and I think it will persuade the government at last to consider an increase."
Another representative of GAWU, Gordon Thomas said workers are demanding the increase because they believe they deserve one. He said that all other categories of workers have received an increased except sugar workers, and they all feel that this points to blatant discrimination.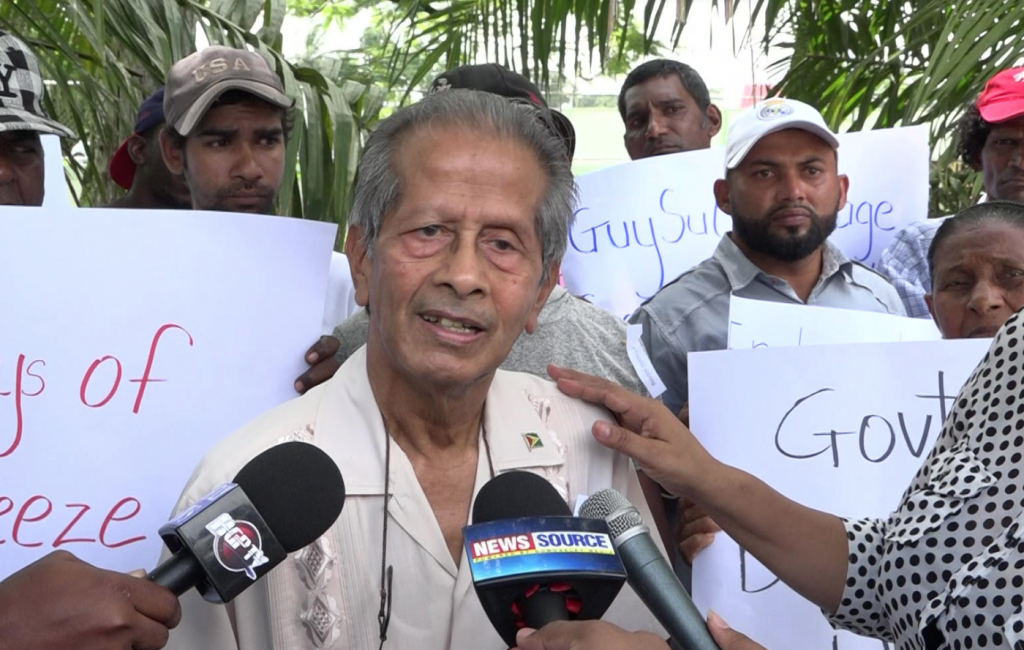 "They closed down four estates, three in operation and still can't give an increase to sugar workers. We are calling on the president to give us an increase. We are seeing it as he (the president) doesn't have any care for sugar workers," Thomas added.
One sugar worker said he is standing up for a wage increase because it has been five years now he and his colleagues have not received any increases despite increases were given to other workers.
"I can't see that one sector getting an increase every year and this sector is being denied and we are state employees too because the Government owns the sugar industry. Why give one and not the other?"
The Government has repeatedly stated that the responsibility lies with the GuySuCo board to decide on a wage increase, but the unions and other workers' representatives believe otherwise.
In recent times, the sugar workers have heightened their call for a pay rise. Workers have participated in vigil and protest activities to bring attention to their plight.