Police investigators have arrested the East Ruimveldt who allegedly attacked and robbed a visiting retired British soldier of his gold chain and diamond and gold ring.
The incident took place on Monday while the elderly man was in the Stabroek market area doing some sight-seeing.   He said he was accosted by the man who snatched his jewellery. He attempted to put up a fight but the man fought him off and made off with his jewellery.
The suspect was identified as a regular in the area who goes by the alias "Quarters". Several persons in the area identified him as the man who snatched the soldier's belongings.
He was arrested on Wednesday and was positively identified by the British soldier. Charges are to be filed against him today.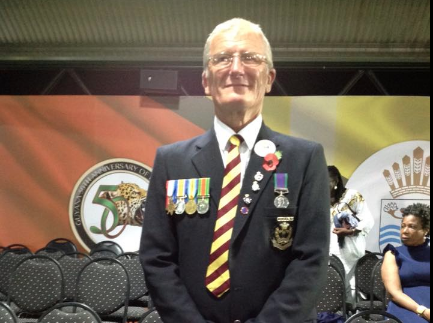 The retired soldier, Edward Constant, was last in Guyana back in 1966 when Guyana became an independent nation. Back then, he made a promise that he would return when the country became 50 years old. He kept that promise and was accorded VIP treatment during the official celebrations.