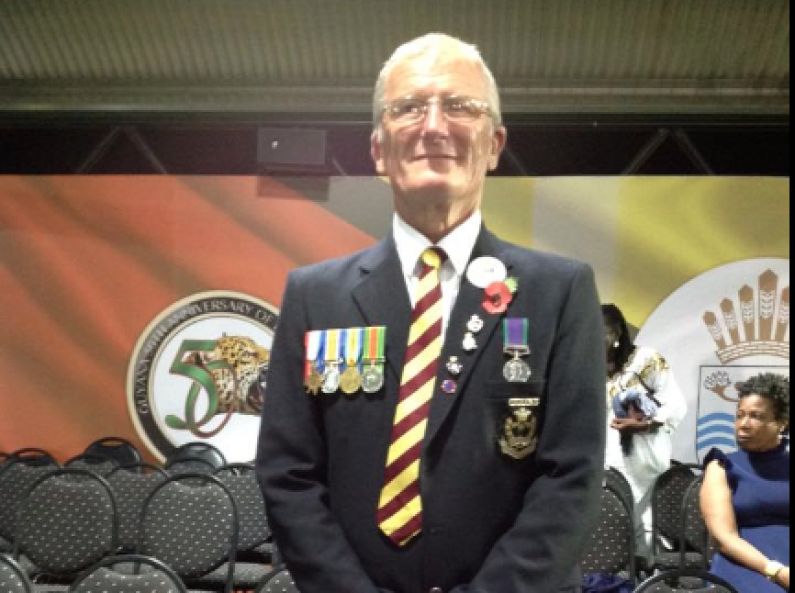 A retired British soldier who kept a 50 year promise and returned to Guyana for the Golden Jubilee celebrations is pleading for the return of his valuable jewellery that he was robbed of at the Stabroek Market square on Monday.
The retired soldier, Edward Constant, was last in Guyana back in 1966 when Guyana became an independent nation. Back then, he made a promise that he would return when the country became 50 years old. He kept that promise and was accorded VIP treatment during the official celebrations.
But his celebrations and excitement became bitter on Monday when he decided to take a walk by himself to the Stabroek market square and was attacked by a man in the area who relieved him of his gold chain and a gold and diamond ring.
Constant said the man grabbed him from behind and quickly relieved him of the jewellery even as he attempted to put up a challenge. He said it all happened quickly and the suspect made his escape through the historical market.
Police officers were summoned and hurried to the scene, where they found the retired soldier shaken by the ordeal. He has since filed an official complaint.
News Source understands that the suspect has since been identified as a man known only as "Quarters", who had been accused of several wrongdoings in the past in the same area.
Police investigators are reviewing surveillance video from the area.
The British soldier is seeking the public's help in giving the police information about the man and hoping for the return of his jewellery. He said the pieces are dear to him and were given to him by his wife just before she died.
Investigations are ongoing.