by Kurt Campbell…
Guyana is closer to benefiting from Britain's help in the reform of its security sector along with the release of British funds for improving the country's water supply and hinterland airstrips.
The good news was delivered on Tuesday as British Member of Parliament and Minister for Africa, Caribbean and Overseas Territories, James Duddridge arrived in Guyana for an official visit.
Duddridge engaged the local media at the High Commissioner's residence prior to his official meeting with President David Granger and other government officials.
The British MP disclosed that the intends to hand over to the President an assessment done by the UK of the current state of Guyana's security sector.
The Guyana Government had approached the UK, asking for help with security sector reform which the UK had committed to offering.
This analysis, according to Duddridge, who was backed up by British High Commissioner to Guyana Greg Quinn, addresses the potential action plan for security sector reform here.
The High Commissioner explained that anything that will be done will follow the review and approval of government and will only commence after that is done. "We will only do whatever the government wants the UK to do," he added.
The UK government official said that country's relationship with the Caribbean was reset recently when Prime Minister David Cameron announced the development of a Caribbean Fund where the UK will invest £360 million into regional economies.
Guyana is set to benefit from £53 million.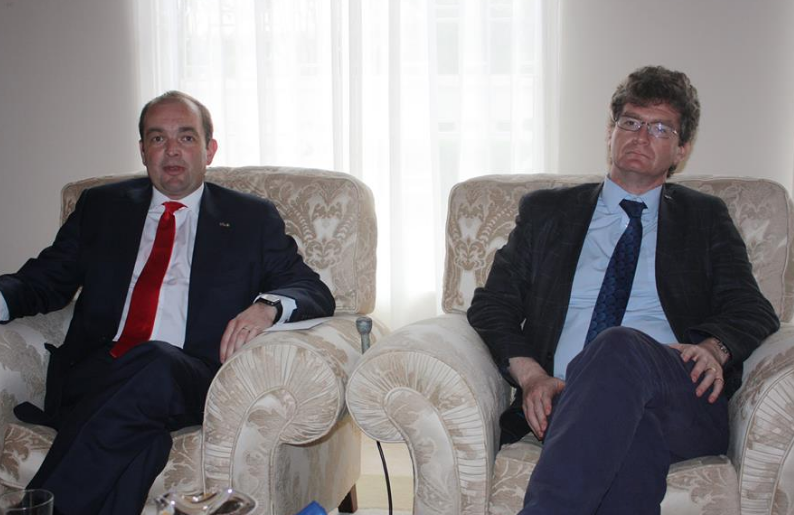 To this end, the High Commissioner explained that proposals have already been sent to the Caribbean Development Bank (CDB) by Guyana and will in the first stage seek to help with improving the country's water supply network and hinterland airstrips.
It will address road development and port/harbour development.
Duddridge also met yesterday with politicians, civil society, human rights organisations, LGBT groups and the business community.
He plans to talk about Guyana's place in the Caribbean region, business and economic opportunity along with improving the ease of doing business here when he meets with the government.
Mr. Duddridge said he is also interested in discussing their reflections on the government's first year in office, human rights situations and legislation dealing with LGBT persons and the death penalty among others. He has also offered congratulatory messages from the British Government on the occasion of Guyana's 50th Independence Anniversary.