With first formers turning out to school today for the new school year, a number of secondary schools in Regions Three and Four are confronted with the issue of overcrowding.
In an attempt to address the situation, the Ministry of Education has moved to erect tents at some of the affected schools while at other schools, a rotation system is being implemented.
General Secretary of the Guyana Teachers' Union Coretta McDonald said the situation is worrying. However, Minister of Education, Priya Manickchand, while acknowledging the issue, said it is an indication that more children are attending school.
"Space at secondary schools have become a real issue. This is a good thing as it speaks to policies that result in retention of more students," Minister Manickchand wrote on her Facebook page.
The East Ruimveldt Secondary School is among schools in the city with tent classrooms being erected.
Minister Manickchand said the decision to erect the tents were done in consultation with parents at the affected schools.
"Where there was space, the PTA at each school, in organized consultation meetings, was given an option of rotation or tents with air conditioning units installed. Where you see tents, that was the choice of said PTA. Where there was no space for the erection of tents, we had no choice but to do rotations," the Education Minister explained.
She said in some cases, buildings were rented.
"At Graham's Hall Primary, you will see a tent because the PTA there chose to have their children return to the school rather than squat at Cummings Lodge Secondary. This made space for additional children at Cummings Lodge Secondary," she further explained.
But while she said the issue of space is an indication of a higher retention rate, Minister Manickchand also laid blame at the feet of the former Government which has been out of office for two years.
 "The fact that the Good Hope Secondary, Yarrowkabra Secondary and St Roses High, were never finished for five long years, that no other secondary schools were built and that St George's High and North Ruimveldt and North West Secondary were burnt to the ground have not been helpful," she said.
The Education Minister believes that the 'Because We Care Cash Grant' and an increase in the number of children sitting the National Grade Six Assessment (NGSA) Examinations, are among factors influencing the numbers at secondary schools.
"This year 2000 more children sat that exam than last year. And 2000 more children need seats in secondary school than last year. A happy consequence," she reasoned,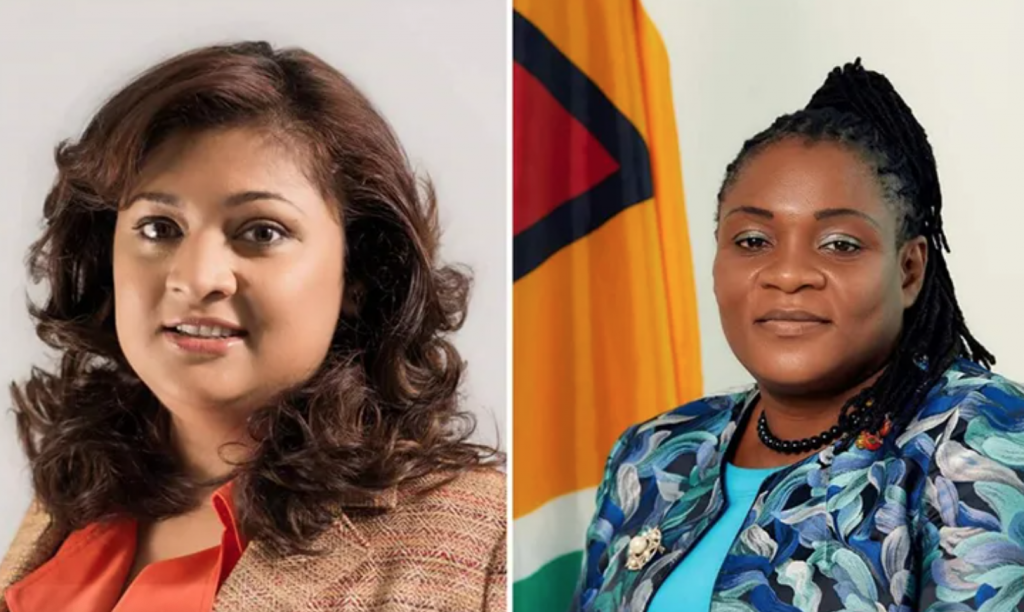 According to her, the Education Ministry is in the process of rebuilding the schools that were destroyed by fire, while extending existing schools such as East Ruimveldt School and St Winifred's Primary.
Two new schools, she said, are being built in Georgetown, another two in Region Three, one in Region 7 and one at Karasabai.
"Additionally, Queen's College and The Bishop's High are being extended currently and St Stanislaus and St Joseph's are slated for expansion next year, making it possible to take in the most children ever in the history of our country at the National "top" Schools," she added.
The Education Minister assured that by this time next year, the Education Sector would be in a better position to achieve Universal Secondary Education.
But the GTU General Secretary, Coretta McDonald expressed concern that the tents may not be conducive for learning particularly due to the high temperatures.
"East Ruimveldt is overcrowded; you don't have space for them but you will put them in tents. Now, with this heat, I don't know how the children are going to be able to concentrate with this heat, and how many fans they are going to be able to put under those tents to keep it cool," the GTU General Secretary said.
She said based on information received tents have been erected at Vergenoegen Secondary School, St John's College, and East Ruimveldt Secondary among others.
According to her, the affected schools had long informed the Education Ministry of the number of children that can be accommodated however, they were nonetheless allotted additional children.