Guyanese Trade Union bodies have come together in united call, urging government to reverse its decision to close the Wales and LBI Sugar Estates.
After several years of division, the two major union blocs came together for a single rally on Sunday and moved a Motion in which they condemned what they said was a "hasty decision" to close the Wales Factory.
The Government and the Guyana Sugar Corporation have announced moves to close the two estates, much to the protest of sugar workers. Both the Guyana Trades Union Congress (GTUC) and the Federation of Independent Trade Unions of Guyana (FITUG) said they believe that the sugar industry can overcome its misfortunes.
The Unions are calling on the government and the Guyana Sugar Corporation (GuySuCo) to abandon the closure of the Wales and LBI estates.
The motion was passed without objection and will now be presented to the government for consideration. The motion also calls on the government not to privatize all or part of the industry and for it to facilitate engagements on matters relative to turning around the industry.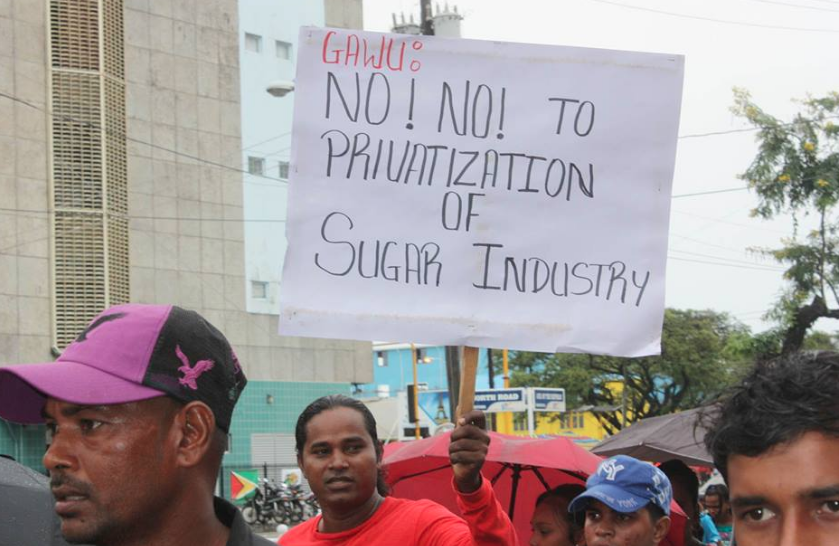 The Unions also want the government to continue its bail out of the industry though annual financial support.
President of the Guyana Agricultural and General Workers Union Komal Chand reminded the rally that in a matter of weeks Guyana will be observing the 40th anniversary of the nationalization of GuySuCo.
He said it is regrettable that workers remain peeved of the treatment meted out to them. He said it was disdainful.
"Closure is a step in the wrong direction… the challenges are not insurmountable," Chand said. Meanwhile, the government was also slammed for its decision to close the estates by GTUC General Secretary Lincoln Lewis.
He said the government should have known better than to hide behind the previous administration and former President Bharrat Jagdeo, whose management of the industry, he said, was disastrous. (by Kurt Campbell)