The Prime Minister of Trinidad and Tobago, Kamla Persad-Bissessar on Friday announced that her government stands in full support of Guyana in wake of the decree by Venezuela claiming Guyana's territorial waters.
Ms. Persad-Bissessar met with Guyana's President David Granger on Friday morning for bilateral talks and just after those talks she indicated that Trinidad and Tobago could not sit "idly by" and not should its support for Guyana in the latest conflict with Venezuela.
"Trinidad and Tobago fully supports Guyana with respect to the border dispute with Venezuela. We have gone a step further and we have always had discussions in Port of Spain and collaborations with Guyana in matters dealing with Venezuela and so we have also offered to assist in any way that we can in having dialogue at the bilateral or multilateral level", the Trinidad and Tobago Prime Minister said.
The Prime Minister reiterated that "we pledge our support to Guyana in this matter. We pledge our commitment to support Guyana and we have always supported Guyana and we will continue to do so".
Trinidad and Tobago shares very good relations with Venezuela but the Prime Minister said even as those relations remain unchanged, Guyana will get its support on the border controversy.
"Our assessment of it together with our expert in our Foreign Affairs Ministry on treaties is that this decree is in violation of the international Law of the Sea and therefore in that regard if we are looking at that and the legality of it, we do not support the issuing of such a decree".
She said she fully agrees with President Granger's call for the decree to be fully withdrawn even as she believes that there might still be room for dialogue on the issue between Guyana and Venezuela, with Trinidad firmly behind Guyana.
"It may have reached a stage beyond dialogue but I always believe there is room for dialogue", Prime Minster Persad-Bissessar affirmed.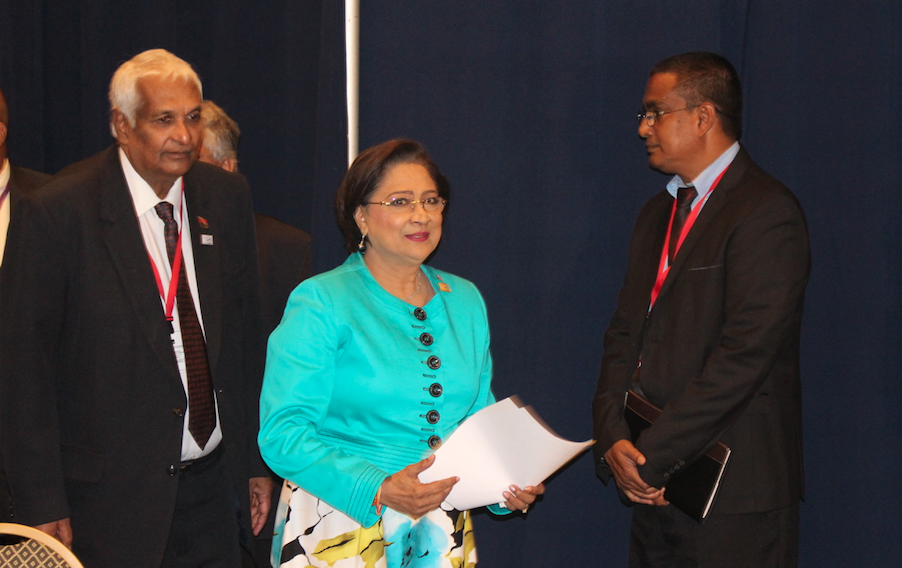 The Prime Minister said she believes that Guyana will be able to find both regional and international support on the issue since Trinidad and Tobago remains convinced that the decree by Venezuela is a violation of international law.
President David Granger in his address at the opening of the CARICOM Heads of Government Meeting on Thursday evening said the threat to Guyana by Venezuela is also a threat to the Eastern Caribbean since it could affect the maritime boundaries a number of Caribbean States.
The Trinidadian government agrees with that position and has pointed out that the decree would change some boundary points to the detriment of Trinidad and Tobago. (by Gordon Moseley in Bridgetown)
Coverage of the CARICOM Heads of Government Meeting in Barbados compliments of LIAT Airlines and the Guyana Telephone and Telegraph Company.