Two young engineers have landed in hot water, after they were nabbed in a car with a packet of cocaine.
The youths, Michael Sookoo and Aviskar Rambarran, who are both 20-years-old, appeared in court today and were remanded to prison after pleading not guilty to drug possession.
The case is that they were nabbed on Thursday in the Grove community with 254 grams of cocaine for the purpose of trafficking.
Attorney Patrice Henry, who represented the two accused, told the Court that his clients were in a rented motor car, when Police ranks stopped them and informed them that the car is suspected to have been involved in a robbery.
The Attorney said the two were both taken to the Grove Police station and the illegal substance was found stashed in the car after the youths were taken into the station.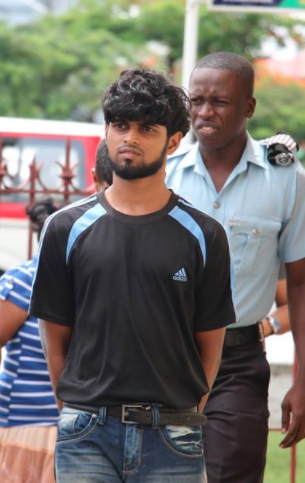 In response to the Attorney's claim, the Police Prosecutor told the court that the facts of this case are different from the ones presented by the Attorney.
The Prosecutor stated that the drugs were found in the glove compartment of the car, during a search by the ranks after the men were stooped.
Additionally, after the Drugs were found, the two defendants allegedly told the Police Officers that 'It's just a lil Hustle' as they kept begging for a chance.
Both men were remanded to prison until June 26th when they will make their next appearance in Court.