Former U.S President Jimmy Carter left Guyana early on Sunday morning, after complaining of feeling unwell.
A senior U.S Embassy official confirmed Carter's departure over a "medical condition".
Mr. Carter arrived in Guyana on Friday morning to lead The Carter Center's observer mission for Monday's regional and general elections. News Source understands that on Saturday, he was forced to cancel a number of his engagements after falling ill.
Early on Saturday morning, he met with President Donald Ramotar and a government team at the Office of the President. By Saturday afternoon, the 90-year-old Carter was taken to a private hospital for a medical check up.
Mr. Carter also met with the Chairman and other members of the Guyana Elections Commission on Saturday. He was also able to meet with the APNU+AFC Presidential Candidate, David Granger.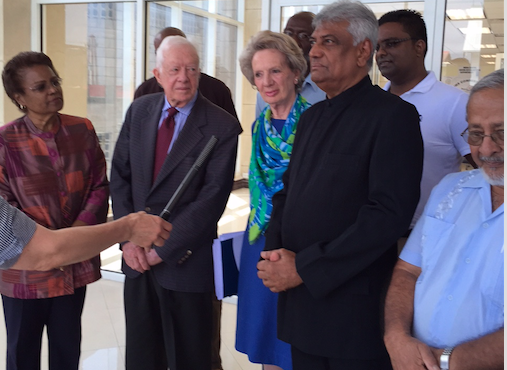 He returned to his room at the Pegasus hotel on Saturday afternoon but his team decided to fly him out of Guyana on his private jet early Sunday morning for better medical checks abroad.
A source at the Cheddi Jagan International Airport confirmed his departure and said he appeared in good spirits as he walked to his jet.
The Carter Centre will move ahead with its elections observation mission and already members of the Center have been dispatched all across Guyana in preparations for Monday's elections.
This was Carter's third visit to Guyana since 1992. His Carter Center group has monitored a number of elections in Guyana and across the world. He was expected to host a press conference on Sunday afternoon with local journalists. Up to news time, there was no official cancellation of that press conference.
UPDATE:  Carter Center statement:
"GEORGETOWN, GUYANA — President Carter was not feeling well and has departed Guyana to return to Atlanta today. The Carter Center election observation mission in Guyana is continuing its work and will keep him informed of developments. President Carter is hopeful about Guyana's election and expressed his commitment and that of The Carter Center to supporting Guyana in the days ahead, stressing the need for a peaceful process before, during, and after the election."