The Carter Centre will be in Guyana to observe the upcoming May 11 elections and former U.S President, Jimmy Carter is expected to visit the country in the run up to the elections.
Several sources close to The Carter Centre have indicated to News Source that Carter has expressed a desire to visit Guyana as citizens get ready to head to the polls. Carter has visited Guyana at least twice before. Once the visit is confirmed and Carter comes, he is expected to meet with political leaders and the Elections Commission.
Meanwhile, The Carter Centre has announced that it will dispatch over 40 observers to regions across the country as part of its observer mission.
Observers are expected to be in Guyana to begin their work by the 22nd April. The Carter Centre will be getting the support of the Guyana Elections Commission.
An advance team from the centre held discussions last Friday with the elections commission.
According to a release from GECOM, Team Leader and Assistant Director, Global Development Initiative of the Carter Centre, Jason Calder indicated that the Carter Centre may be looking to establish a core medium observer team of four persons to lead its Mission.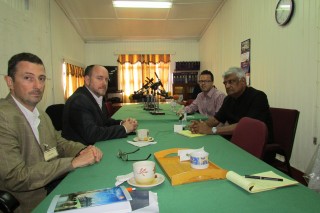 He further stated that Carter Centre plans to have six (medium term observers comprising three teams of two persons each which can be deployed by April 22, 2015.
Mr. Calder also discussed a preliminary logistical plan for the three  medium term observer teams which is as follows: (a) One Team to cover Regions 2, 3, and 7; (b) another Team will cover Regions 5 and 6; and the other Team to cover Regions 1, 8, and 9.
The release said GECOM's Chairman, Dr. Surujbally expressed his satisfaction that the Carter Center is once again taken a keen interest in observing elections in Guyana.
Dr. Surujbally also gave a commitment to the Carter Centre representatives, that GECOM will assist the Team in whatever information requirements they may need and he also advised the Carter Centre representatives to send all plans and other training materials they intend to use, during their Election Observer Mission to GECOM, so that those materials can be assessed by GECOM for accuracy and completeness.
The Carter Centre has observed previous elections in Guyana.
Filed: 14th April, 2015