As the United States promises to continue building close ties with Guyana, the US Ambassador to Guyana, Perry Halloway, revealed on Thursday evening that the local embassy granted 72,000 non-immigrant visas (visitor) and 7,000 immigrant visas (permanent) in 2016.
Speaking at the Embassy's celebration of the U.S Independence, Mr. Halloway told invitees at the Georgetown Marriott, that the increase in the number of visa approvals is as a result of an improved economic situation in Guyana over the past years.
He noted that only a very small number of Guyanese nationals would abuse their visas by remaining in the U.S illegally.
U.S President Donald Trump has taken a firm position against persons living illegally in the United States.
There have been cases of a few Guyanese who were rounded up and taken into custody during immigration raids.
But the Ambassador said the ties between Guyana and the United States remain very strong and are expected to develop even more, as the U.S will continue to assist Guyana in several critical areas.
The Ambassador said annual remittances to Guyana stands at close to G$48 Billion per year.
The U.S has spent over US$30 Million in various development projects in Guyana. He highlighted a number of the projects that have received support, including assistance to the Guyana Revenue Authority, the Security and Law Enforcement Forces in Guyana, as well as it has supported work in the developing oil sector.
"At the best times, we have simply been a catalyst or strong supporter, but the real work of advancing Guyana as a country has always been done by Guyanese and there is still more to do. I am here to tell you today, that if you want us, then the United States will be by your side moving forward", Ambassador Halloway said.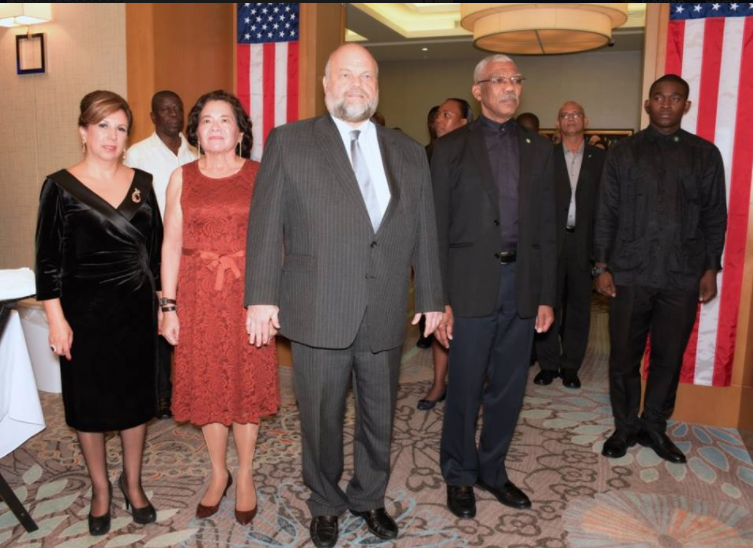 He also noted that Guyana and the US have been cooperating more in the fight against drug trafficking since the setting up of the US Drug Enforcement Agency office in Guyana. That office is based at the US Embassy.  Additionally a number of development and other programmes that have been absent in Guyana for the past two decades, have been returned.
President David Granger in response, thanked the US government for its continued support and noted that the Government of Guyana will continue to work with the U.S in various areas of development.