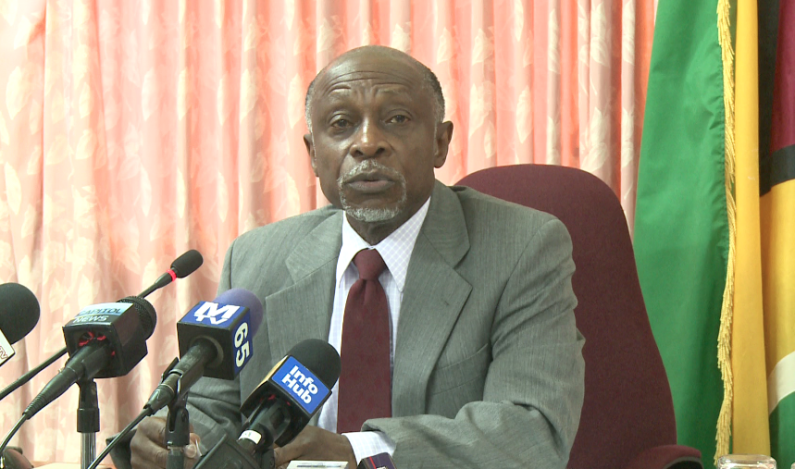 Guyana's Minister of Foreign Affairs, Carl Greenidge on Monday said Venezuela's relentless claim to this country's Essequibo region and its accompanying oil rich maritime space was also stalling maritime boundary talks with other neighboring countries with which Guyana share maritime boundaries.
Greenidge is confident, however, that much of the issues related to resolving maritime boundaries will be resolved following the outcome of the border controversy case which is currently before the International Court of Justice, for which he said "preparations are in train."
The Minister said there is "work to be done" even as Guyana works with its team of local and international lawyers, headed by Sir Shridat Ramphal.
Although not ready to fully reveal who comprises Guyana's legal team in this major high-profile case, the Minister said many of the lawyers have worked on similar cases in the past.
He said there are local lawyers from within the Ministry of Foreign Affairs and international lawyers from three Chambers.
While the preparation continues for Guyana to make its case before the ICJ, Greenige said newly elected Prime Minister of Barbados Mia Motley has already indicated her willingness to engage in maritime border talks with Guyana.
Guyana shares maritime space with several countries including Barbados, Brazil, Trinidad, Suriname and Venezuela.
But agreeing on finalized boundaries for these maritime spaces is being stalled because of Venezuela's claim to Guyana's territory.
"If it is a shared space then two or three countries can't negotiate definitively in a way that binds the other," Greenidge explains.
He said already there was one country that attempted to negotiate but, in the process, it was yielding Guyana's territory to itself.
"The UN law of sea Convention does not allow for two countries to negotiate and bind three."
Greendige said all countries would have to be involved in order for any agreement to be binding.
Much of how the countries will address the issue in the future depends on the outcome if the ICJ process.