Opposition Leader and former President of Guyana, Bharrat Jagdeo has solidify his position as the top leader of Guyana's oldest political party, the People's Progressive Party.
Although the party's constitution does not cater for a party leader, in the internal elections by party delegates for Central Committee Members, Mr. Jagdeo emerged as the favourite. He picked up 718 delegate votes, while his closest competitor, former Culture Minister, Dr. Frank Anthony grabbed 620 votes.
PPP Chief Whip in Parliament, Gail Teixeira came in third with 583 delegate votes. Former President and Former PPP General Secretary, Donald Ramotar placed fourth with 570 votes while former Attorney General, Anil Nandlall rounded off the top five with 548 votes.
Ramotar's slip to fourth place may reflect the reality of him losing support among his party comrades since the party lost the 2015 General elections.
When the PPP Congress was last held in 2013, it was Ramotar who emerged as the most popular candidate.  He gained 886 votes back then.  He was also the sitting President of the country at the time.  Jagdeo had placed second.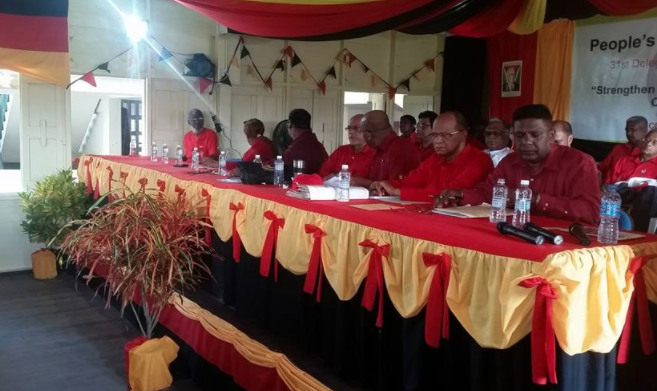 Dr. Anthony, Gail Teixeira and Anil Nandlall have consistently placed among the top vote getters at the party Congress and attention might now be paid to the party beginning a grooming move for a Presidential Candidate for the 2020 elections.
While the 2016 party congress focused heavily at the opening, of the party needing to have a makeover and attract new and younger members, Irfaan Ali and Shyam Nokta were the only two young members to round off the top 10.
See full list of results below:
Dr. Bharrat Jagdeo (718 votes)
Dr. Frank Anthony (620 votes)
Gail Teixeira (583)
Donald Ramotar (570)
Anil Nandlall (548)
Clement Rohee (522)
Ganga Persaud (512)
Irfaan Ali (511)
Zulfikar Mustapha (496)
Shyam Nokta (495)
Indra Chandarpal (490)
Roger Luncheon (488)
Pauline Sukhai (460)
Nigel Dharamlall (453)
Vindi Persaud (439)
Hydar Ally (422)
Vickram Bharrat (408)
Dharamnkumar Seeraj (393)
Komal Chan (378)
Colin Croal (360)
Charlie (356)
Brian Allicock (326)
Neil Kumar (321)
David Armogan (317)
Jennnifer Westford (304)
Vishwa Mahadeo (289)
Clinton Collymore (287)
Kwame McCoy (281)
Bheri Ramsaran (278)
Faizal Jaffaraly (277)
Majeed Hussain(267)
Rickey Ramdat  (260)
Claire Singh (255)
Anand Persaud (242)
Mitra Devi Ally  (230)