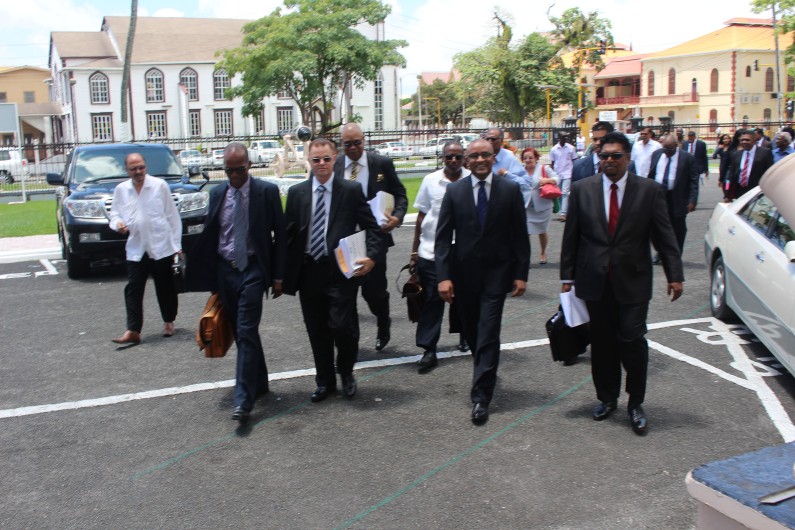 Opposition People's Progressive Party Members of Parliament (MPs) on Friday boycotted an event organized by House Speaker, Dr. Barton Scotland to reflect on and celebrate Guyana's 50th Independence Anniversary.
Invitations to the event were sent to all MPs but while the PPP has acknowledged receipt of those invitations, a deliberate decision was taken to stay away from the event.
Several MPs, both past and present, from the governing parties attended the event in the yard of the Parliament Buildings.
In a letter to the Speaker, Opposition Chief Whip Gail Teixeira outlined the Party's reason for non-attendance.
Teixeira said PPP MPs had originally assumed that the event was a Parliament of Guyana activity but later realized that the Parliamentary Management Committee had not been involved in the planning of the activity.
She said on further inquiry, MPs were informed by the Clerk that it was an activity being organized by the Speaker.
"Regrettably, the opportunity provided by a parliamentary activity on our 50th Independence Anniversary to reach out and be inclusive and achieve some modicum of bipartisan consensus between the two sides of the Legislature appears to have been ignored," the letter stated.
The PPP said it find what appears to be an inexplicable restriction on the recognition of parliamentarians to the First and Second Parliaments alone.
"In our opinion, the 50 years of our independence includes all parliamentarians who have served and continue to serve Guyana over these five decades and eleven (11) Parliaments. Therefore, the opportunity to be more inclusive and to reflect the diversity in our Legislature and of our nation- gender, youth, age, ethnicity appears to have also been lost," the letter added.
To illustrate this, the PPP noted that the two parliamentarians listed to speak are from the same parliamentary political party, the People's National Congress, which is Mr. Oscar Clarke and Mr. Llewelyn John.
The PPP noted too that no Member of Parliament for the PPP who served in the First and Second Parliaments has been included on the program Nor is the PPP aware of what attempts have been made to contact the
six surviving Members.
"The lack of inclusivity of younger M.P.s, female M.P.s and ethnically diverse M.P.s reflective of who we are as a nation in this programme is a sad reflection of where we are as a nation at 50 years old.
By way of this letter, I wish to indicate to you our profound disappointment with regards to the content of the programme for the event, and, as a result, we shall be unable to participate in your October 28th event in "reflection and celebration of our 50th Independence Anniversary," the letter concluded.