As Guyana celebrates its 52nd Republic Anniversary today, the President has issued a call on citizens to change their attitudes to ensure the success of the country.
In his address at last evening's flag-raising ceremony, President Irfaan Ali focused on his concept of the things that are needed to forge One Guyana. 
He said Guyanese should no longer sit back as progress unfolds before their eyes.
"It is, we as a people, who must change our attitude, culture and values towards the environment, society and towards each other—that will ultimately determine our collective successful Guyana. This is not the time in our history to sit back and watch the journey unfold. This is our time to embrace the train of progress, this is our time to embrace the demand our country make of us, this is our time to be positive, this is our time to remove negativity, this is our time to advance the future of One Guyana", the President said.
In the address to the nation, President Ali also called on citizens to be realistic in their expectations.
He said the country's continued experiences with Covid, the recent floods, and supply chain issues are fresh examples of how expectations must be tamed against realities.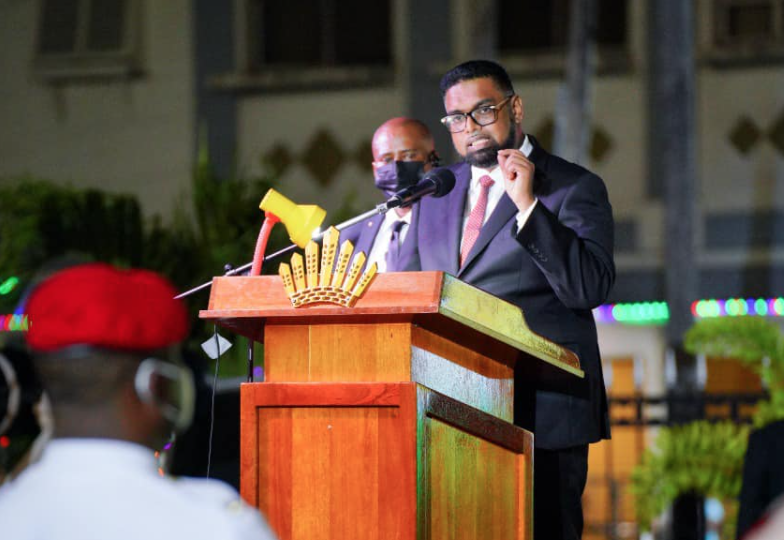 According to the President, in being realistic, the country must be humble to accept help in areas where help may be required.
"Being realistic is being humble enough to say- "I do not know" and reach for answers where they do exist. It is for this reason – our local content legislation was developed with a realistic understanding of where we are as a country. Being realistic is also understanding that the commitments we made in the manifesto are to be achieved within five years, and I assure every Guyanese those commitments we made will be honoured and delivered."
The President said his government will remain committed to its push towards building a One Guyana.