Guyana's leading road race champion, Cleveland Forde, maintained his dominance on Sunday as he outfoxed his rivals once more to romp to a fifth title in the six years of the Courts 10K run.
Before the race, it seemed it would have been a trilling show down between Forde and nemesis Winston Missingher but Forde proved his superiority in the race by strolling to the finish line at the company's Main Street branch  in a time of 32 minutes and 40 seconds.
The improving Missingher clocked 33 minutes and 15 seconds while 2014 champion Cleveland Thomas came third in a time of 33 minutes and 26 seconds.
Both Forde and Missingher were locked in a tense battle up to the 9km mark but it was there, the experienced Forde made his move after Missingher showed signs of fatigue.
Forde for his efforts took home $100,000 and Missingher $75, 000 while Thomas received $50,000; Nathaniel 'Brother' Giddings who clocked 33:26 to finished was awarded $30,000.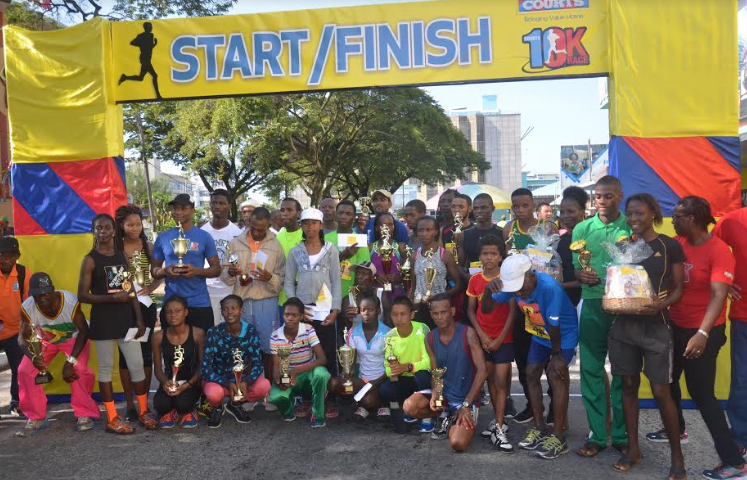 In the female category, United States-based Euleen Josiah-Tanner made it six consecutive titles by clocking 40 minutes and 12 seconds, leading teen sensation, Claudrice McKoy (41m:42s) and Ashanti Scott (41m:56s) into the top three.
Meanwhile in the juniors, Odwin Tudor won in a time of 39 minutes 46 seconds ahead of 10 year-old, Alex Arthur. The other winners included Joanna Archer (junior girls), Ian Archibald (master's 40-54), Cyrleen Phillips (women 35 and over) and Llewelyn Gardner (master's 55 and over
In addition to the 10K race, citizens also participated in a 3K walk which saw the likes of Deputy Mayor, Sherod Ducan and Courts Staff participating.
The organizers along with president of the athletic association, Aubrey Hutson, deemed the event a success, stating that it was perhaps the largest turnout in recent memory