Before the race got started, there was talk of rising star Winston Missigher ending the dominant reign of Cleveland Forde at the annual Massy 10K road race but Forde stamped his authority by racing to a sixth consecutive title in the seven years of the event earlier today (Sunday).
The race began on the East Bank of Demerara, just in front of the Diamond branch of Republic Bank and ended at the Massy Headquarters at Ruimveldt.
Forde crossed the finish line in an impressive 33 minutes 11 seconds pipping second paced, Missigher who finished in a time of 33 minutes 31 seconds and Police Track Club's Nathaniel Giddings (33:33).
Cleveland Thomas clocked in 34:01 while Quacy Morgan ran 35:16 to finish 4th and 5th respectively.
Forde, Missigher and Giddings were all bundled coming down to the last 3K but it was in the final stretch Forde accelerated from the pack.
Both runners have highlighted that this event was used as a warm up for the Venture 5K race to be hosted in Trinidad and Tobago later this month.
In the senior female division, Ashanti Scott copped first place in a time of 42:21 followed by Alicia Jack (46:52), third placed, Shion Boyer (49:32) and Nikita Wilson (54:25).
Odwin Tudor was the leader in the junior male category, finishing in 34:21. Anferne Headecker came in second, one minute later while Rickey Williams rounded off the podium in 35:47.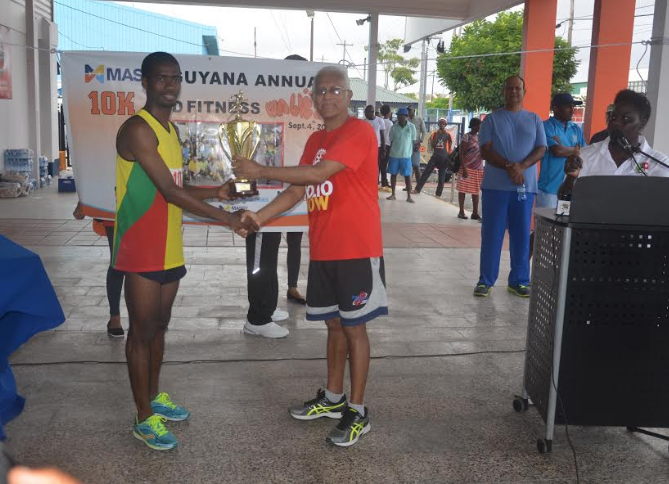 The junior female category was won by Claudrice McKay (41:32) while Maria Urquart completed the task in 47:52 followed by Leanna Charles (50:11).
Michael Davidson dominated the Masters Male division (40-54 years), finishing 39:45 while Gary Hartag finished in 41:26. Shawn Agard was third placed in this event at a time of 43:13.
In the senior male race (55 years and over), Ian Archibold completed the race in 41:22 closely trailed by Wendlyn Gardner (42:30) as Kenneth Prescott managed a time of 51:58.
In the 35 year and over, female category, Cyleen Phillips was the top runner, registering a completed race at 53:44. Carla Benjamin ran 54:34 to win second while 59:09 brought Carla Adams to third place.