On Sunday September 25, the battle will be on between Guyana's top two male long distance runners Cleveland Forde and Winston Missingher.
The two will clash at the sixth annual Courts 10 K road race which begins outside the furniture giant's Main Street branch.
Missingher, who has gripped the attention in the athletics fraternity with his spirited efforts on the track, unfortunately has fallen to the "Little Kenyan" Forde on number occasions.
However, the soft spoken Missingher earlier today (Friday) revealed   that he has been putting in the necessary work for what is expected to be a trilling race.
"I have been putting in some very hard work and I know it will be a stiff competition , I have my training partner Cleveland Thomas, also Cleveland Forde and some other good talented athletes, it will be very fast race and I will be going out to do my best" the runner stated.
At the recent Massy 10k, Missingher   led the Forde for the majority of the race but in the last meters of the race, the experienced Forde surged to the lead to take the win. Last weekend in Trinidad and Tobago at the 17th annual Venture 5K run, Forde pipped Missingher once more to but came second to Kenneth Rotich.
Commenting on how he plans to change his fortunes, Missingher stated,
in an athletes' life it all comes down to discipline; he is more experienced than me since he was in the game longer than me but I'm header there".
While the attention is locked on the battle between Forde and Missingher, 2014 winner Cleveland Thomas is confident of another good showing.
"My preparation for the race is good, I did a lot of over distance running since I have been lagging a bit but I'm coming Sunday to put on a good show; it is going to be tough competition".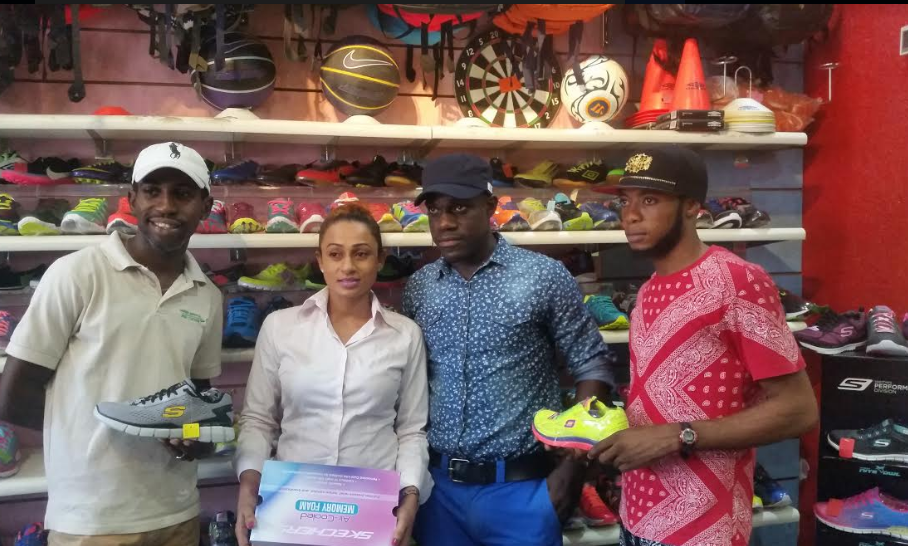 Meanwhile, Proprietor of Professional Key Shop Kwame Ridley donated a pair of Sketcher running shoes to  both Thomas and Missingher on behalf of Colours Boutique and Wind Jammer Hotel.
Ridely, who is in admiration of the duo performances said, they are very good athletes and I can see great things coming from them so where are here to help push them and take them to next level and help them become champions".
Last year, Forde and Euleen Josiah-Tanner dominated the male and female categories respectively and will be gunning for the $100,000 top prize.
The second-place finishers will pocket $75 000, third-placers will take away $50 000, while fourth- and fifth-place finishers will collect $30 000 and $20 000 respectively.
In the Junior category the winners from first to fifth will receive training vouchers in amounts of $60 000, $40 000, $30 000, $20 000 and $10 000 respectively.
Race time is 06:00 hrs.