By Rawle Toney
For most Guyanese footballers at age 19, they settle for playing in their domestic league; at least whenever there's one, but for Trayon Bobb things are different.
The Uitvlugt village native at age 16, had found a way 'out', thanks to former Guyana Football Federation (GFF) Technical Director Jamaal Shabazz who spotted the diminutive attacking midfielder during a visit to the annual Kashif and Shanghai Football Tournament in 2010.
Shabazz brought Bobb to play in the Trinidad and Tobago Professional League with his club Caledonia AIA – a team he formed and owns which is always in an argument of the best club capo with W-Connection.
Bobb, who comes from a family known for their exploits in football would turn out to be Shabazz's 'golden talisman' and today, his hard work has paid off with his recent signing to the Premier League of Lithuania with FK Kruoja.
In an invited comment, Bobb told News Source he's just happy for an opportunity to play the game of football at a high standard, adding "hopefully I can help the team achieve their goals for the season. It was my dream to play professional football and now it's more than just a dream, it's my passion and my life. Every footballer wants to win titles and I believe that I can add a couple while I'm here"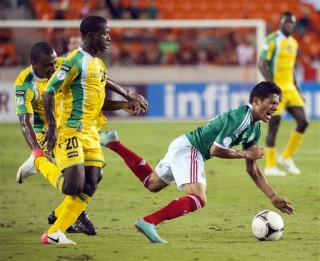 "I'm fast enough, I try to use that to my advantage. I like to play with the ball, but the selfish football – is not for me. The most important thing is to work hard. I expect a good season for myself and team. So far, living here is nice, there isn't much to do, just football which is good and will give me more time to focus on getting better so I can one day reach the English Premier League or even Spain" said Bobb.
Unlike most part of Europe, the sport of football happens to be second to Basketball with Lithuania having been ranked only behind the USA and Spain but Bobb said that he will not laze at the opportunity to shine whenever it arises.
But Bobb's journey to the former Soviet Union and Nazi Germany country is one which shows the determination of not just a sportsman but a footballer who's simply following his dreams of emulating his favourite players Lionel Messi and Christianio Ronaldo.
It started with his exodus to the 'TT Pro-League' with Caledonia AIA where in his first professional season with the Morvant/Laventille based club, he made seven league appearances.
However, Bobb was a star during Caledonia's most successful season where he helped the 'Eastern Stallions' captured the First Citizens Cup, Lucozade Sport Goal Shield, FA Trophy and Caribbean Football Union (CFU) Club Championships trophy.
In the 2012 – 13 season Caledonia qualified as the Caribbean's top team for their first CONCACAF Champions League and Bobb was a starter against Major League Soccer (MLS) Seattle Sounders both home and away and again proved to be Shabazz's trump card, setting up and scoring the winning goal in their 2 – 1 over Defence Force to retain their First Citizen Cup where he (Bobb) was later named Most Valuable Player (MVP) of the tournament.
It was like the "City of El Dorado" had moved to Trinidad as goals came easy for the Guyanese and on January 8 of this year, he was one of five TT Pro-League players invited for a two-week trial with a touring team in Turkey to play practice matches against several European clubs on their winter breaks.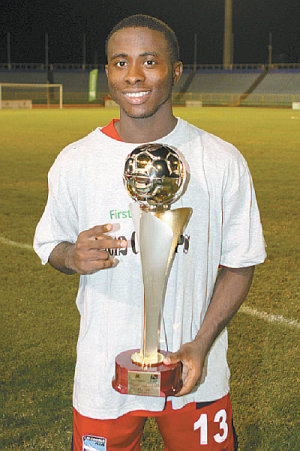 A month later, Bobb signed with TP-47 of Kakkonen in the third-level of Finland Football Association Professional Leagues.
Known for his exploits of easily finding the back of the net, in March, Bobb recorded his first career hat-trick in his debut for TP-47 during the third round of the 2013 Suomen Cup.
He went on to make starting appearances the following two rounds before a defeat to TPV ended the Tornio club's run in the fifth round.
Bobb recorded his first league goal in his debut for TP-47, on 28 April, to level the match against PK-37 at 2–2 in the 85th minute after scoring from a cross. A week later, he scored his second goal in as many matches in a 2–0 win over Vasa IFK. The Guyanese scored two more goals over the next five league matches against Tervarit and a week later against KPV.
But just when the Uitvlught villager was getting settled, he became the first Guyanese to feature in the Finland Premier League following his loan agreement with Veikkausliiga side RoPS, making consecutive appearances against VPS and FC Honka.
After being a prominent member of the National Under-20 side, Bobb, made his senior team debut for Guyana against India at the Providence National Stadium and a week later, featured against Barbados in the FIFA World Cup Qualifiers.
Under Shabazz, Guyana for the first time reached the third round of the qualifiers and it is there where Bobb produced his best performance for the 'Golden Jaguars' scoring arguably two of the most spectacular goals of the Qualifiers against El Salvador during their 2 – 2 draw away to the Central American power house.
He also featured against Mexico at the World Famous Azteca Stadium in Mexico City, concluding an active year for the Golden Jaguars with six consecutive starts during their qualification attempt for the 2012 Caribbean Cup in October and November.