Four days of intense competition are over and the winning district of the 56th Annual Ministry of Education/Guyana Teachers' Union (GTU) National School's Cycling, Swimming and Track and Field appears to be the Upper Demerara/Kwakwani (District 10)  team.
They are heading towards their 15th title by virtue of opening a 100 point lead on the competition.
At the end of Thursday's events and 106 finals, District 10  has accumulated  461.5 points while West Demerara (District 3) surged to second place on 361.5 points in the athletics championship.
West Coast Berbice (District 5) secured the third spot heading into the final day with 345 points while Corentyne (District 6) ended in fourth with 329.5 points. East Coast (District 4) rounded out the top five on 322 points.
Fourteen-times Champions, North Georgetown is currently seventh in the athletics championships on 299.5 points.
Other rankings include  District Two (Essequibo Coast/ Pomeroon) on 255.5, District 15 (New Amsterdam) on 254, District 12 (East Georgetown) on 253.5, District 13 ( South Georgetown) on 202, District Seven (Bartica) on 198, District Nine (Rupununi) on 166, District 14 (East Bank Demera) on 159.5 and District Eight (Potaro/ Siparuni) on 24.5 points.
The highlight of the day was District 10's Compton Caesar  and Daniel Wilson romping  to respective sprint doubles by winning the  200M under-20 and under-18 events.
 Caesear won ahead of District 12's Linton Mentis and District 15's Stayon Wilson; the Lindener had a time of 22.1s while Mentis was distances behind with a time of  22.7s and Wilson 23.0s.
In the  female under-20, another Lindener ruled the field as Denita Jackson clocked  26.7s to win ahead of Kimberly Hassanah (27.3s) and Ruth Sanmoogan (27.4s).
In the boys under-18, Wilson continued the Linden team's dominance as he added another gold medal to his closest by winning  in a time of 22.7s, with  his closet rival being Brian Roman (23.5) and Umkosi Vancooten (23.7).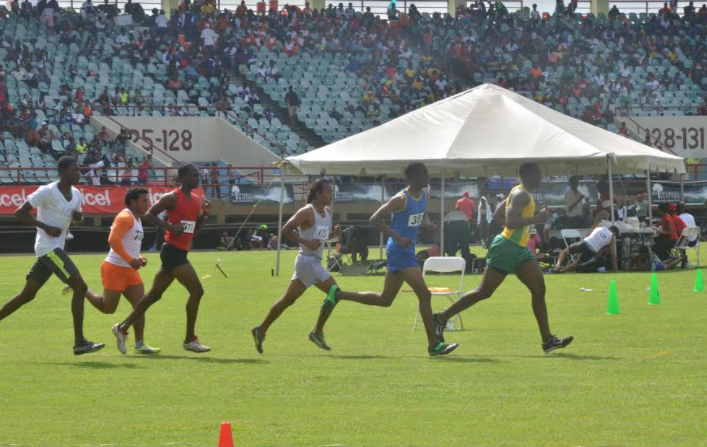 The upset of the day came when North Georgetown's Kenisha Phillips failed to replicate the winning run she did in the 100M on Wednesday as District's 10's Deshanya Skeete turned the tables to win in a time of 25.3s edging Phillips at the line, with her time being 25.4s; Tiffauna Garnett took third with 26.3s.
In the 1500M events; District's 15's Ruel Chester won the boys under-20 in a time of 4m:27.9s . The female event was won by Maria Urquhart (5:23.4).
North Georgetown's Samuel Lynch impressed once again after winning  the 800M on Wednesday and he won the boys under-18 1500M.  

The win was not as easy as the 2-lap event since he was pushed by Okemi Porter.
Lynch clocked a time of 4m:30s while Porter came in at 4m:31.9s.; District's 11 Claudrice McKoy added another goal by winning the event in a time of   5m:06.8s.

The events will continue on Friday  with the  major highlights being  cycling, 400M finals and the 4x100M relays which will bring a close to the championships.