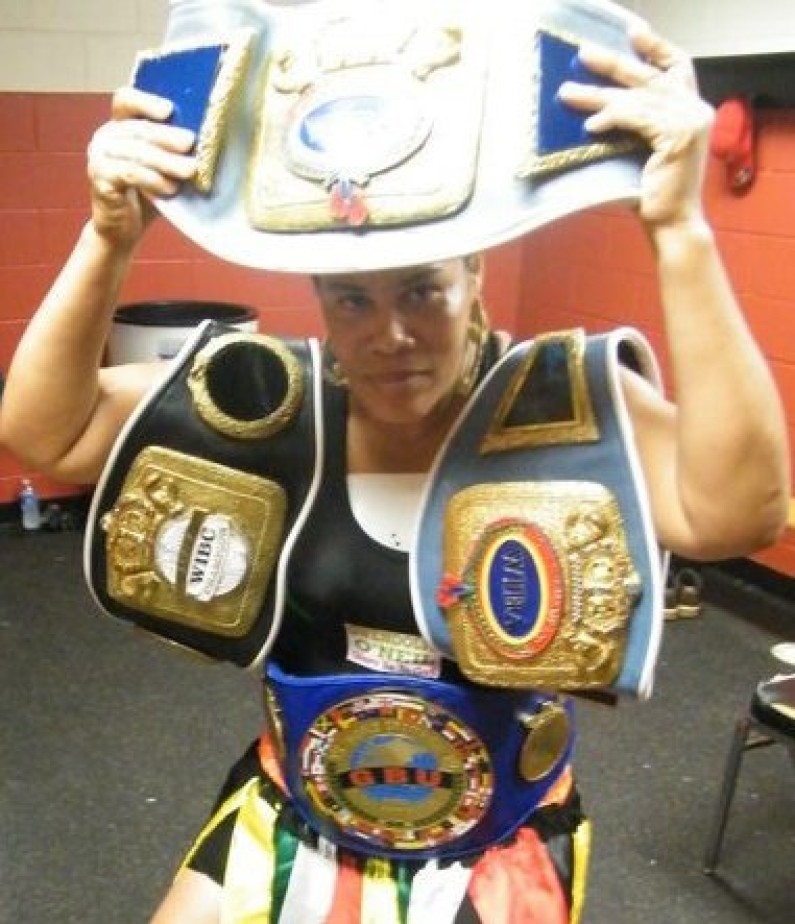 By Rawle Toney
On May 29, 2004, she etched her place in Guyana's history, becoming the first female World Champion following a 10 round Unanimous Decision victory over American Kathy Rivers at National Park and today, Gwendolyn O'Neil still sits on the throne of the World's Heavyweights.
The Women International Boxing Association (WIBA) considered as the most respected sanctioning body in women's professional boxing, released its World Rankings today with O'Neil being the lone Guyanese fighter to hold a women's title being the World Heavyweight Champion.
The number one contender to her title is Martha Salazar (USA) and according to the latest Ranking, Sonya Lamonakis (USA) is number two, 3. Lisa Marie, Vizaniari (Australia), 4. Tanzee Daniel (USA), 5. Tiffany Woodard (USA), 6. Ni Yapei (China), 7. Kasondra Hardnette (USA), 8. Tania Avila (Colombia), 9. Candi Sarver (USA), 10. Victoria Nansen (NZ)
O'Neil will fight Lamonakis on November 15 in New York but News Source contacted WIBA founder and President Ryan Wissow, who stated that the Guyanese will have to win her fight in order to hold on to her title.
The 'Stealth Bomber' as she is commonly called, last defended her title on November 29, 2011 against fellow Guyanese Pauline London.
"She needs to win her upcoming fight because if she don't we'll have to strip her. It's been two years since she defended her title but we don't want to be mean too her because honestly, she hasn't really turned down a fight. It's always something that keeps her from defending it. But I have girls who now want a shot at that title and we have to give them that chance" said Wissow.
Meanwhile, Sharon Warde was the only other Guyanese to feature on the WIBA rankings, being number three in the Super Middleweight Division. Germany's Nikki Alder is the holder of the title.
Asked if there's any action for Guyanese fighter in the future, Wissow said "It's hard to say right now, I would love to have some fights in Guyana but it seems like the (Guyana Boxing) Board is the only one promoting right now. But I would love to see some fighters back in the ring, like Shondell Alfred"
Alfred was Guyana's last female world Champions in the Bantamweight Division; first capturing the title in 2009 at the Cliff Anderson Sports Hall with a ten round Unanimous Decision win over Corinne Van Ryck DeGroot.
Her win was seen as a controversial one and forced a rematch in 2010 that saw De Groot being knocked in round four of their ten round encounter.
However Alfred was stripped of her title (now held by Carolina Rodriguez of Chile) and had landed in the news of only finding out of being pregnant in preparation for clash with Mexico's Zulina Munoz for the vacant WBC Super Flyweight Title.
"Shondell is a warrior and we want to see her back in the ring as early as January hopefully. So I think I'll be talking to her people about a fight. She's a hell of a fighter and is exciting to watch in the ring, so let's see what we need to do to get her back in that ring" said the WIBA President.
For the full WIBA Ranking check her: http://wiba_ratings.tripod.com/