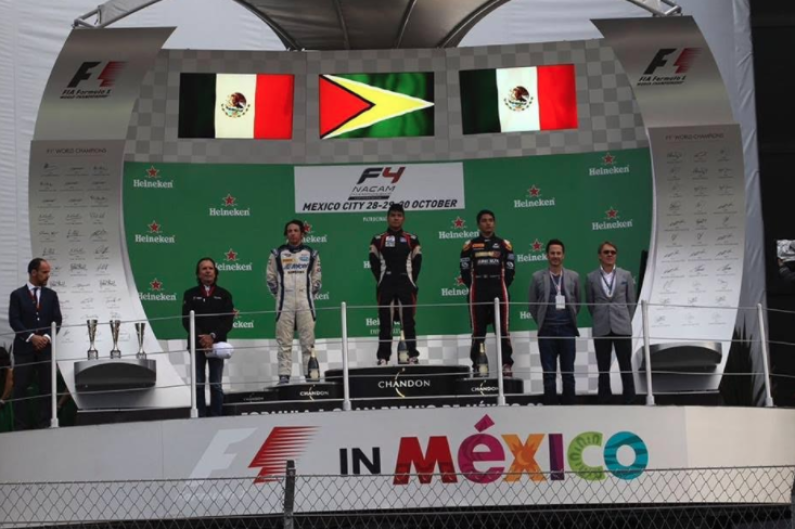 Competing in the Formula 4 supporting races for the 19th round of the Formula 1 World Championship, Guyanese driver, Calvin Ming, stormed to a first and third place finishes in front of a huge crowed in Mexico.
As a result of the stellar performances, Ming stood tall on the podium as Guyana's National Anthem was played for first time at the Autódromo Hermanos Rodríguez Circuit in Mexico City, a moment he relished.
"The most honouring moment was when me and the people in Mexico got to finally hear the Guyana national anthem since I was on the top step on the podium; it took be back to when I was younger and just listening to the anthem, it was one of my proudest moments representing Guyana and I hope I get to represent Guyana more in the future", the driver   revealed.
On a weekend where the likes of top F1 drivers such as Lewis Hamilton, Nico Rosberg and Sebastian Vettel would be taking to the circuit, Ming said that he was not fazed by the occasion since it was just like any other race for him.
"When I actually got there it was just like another race for me, I just wanted focus and hit my marks but after the first practice and qualifying, the field in the top 10 was only separated by 0.5 seconds so I knew it was going to be difficult but we had a chance to win" the son of veteran racer Stanley Ming explained.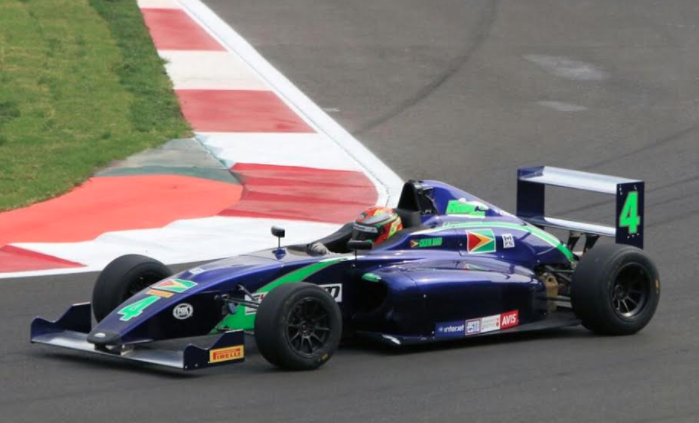 He added, "Going into the race I was not really focused on the race because I was more focused on University at the time, I was not even aware I was going to race until Monday when Ram Racing gave me a call telling me they have a car for me to drive, so it was a good opportunity",
The race driver who is competing in the F4 NACAM Championship has begun testing USF2000 with some teams for next year since he is looking forward to a season. However, he said he will keep an open mind as opportunities arise.
"I'm keeping my options open because as of right now, I am either first or second in the F4 championship, so as of right now, I will focus on my studies and whatever opportunities arise I will look into it", Ming disclosed.
The 20 year-old is currently a Civil Engineering student at the Florida International University, a field in which he chose because he likes "creating stuff or building stuff; the more I learn is the better for me".
Ming expressed immense gratitude for the support of his family and other well-wishers and continues to be focus on his quest to become a F1 driver.