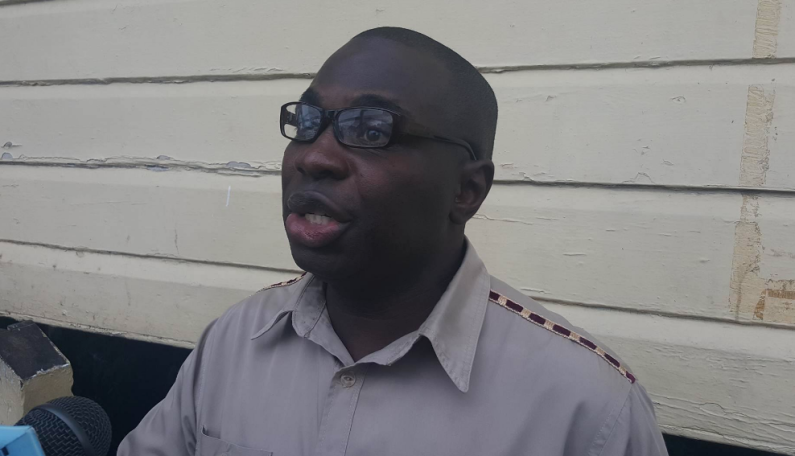 Former Presidential Information Liaison under the PPP, Kwame McCoy was on Wednesday slapped with three charges for actions meted out against Political Activist Mark Benchcop back in March 2011.
McCoy appeared at the Providence Magistrate's Court before Magistrate Lerone Daly and was granted bail in the sum of $275,000.
He was granted $200,000 bail for malicious damage to property of a F150 motor vehicle belonging to Benchcop,$50,000 bail for the theft of an ACER laptop also belonging Benschcop and $25,000 bail for assault meted out to Benchcop.
Speaking from the prisoners dock, McCoy pleaded not guilty to all of the charges.
The incident occurred back in March 2011 at Diamond New Scheme where McCoy was inspecting the construction of his sprawling home. Benschop was forced to run and leave his vehicle behind as a group of men including McKoy allegedly chased him from the property with threats.
The charges followed advice from the Director of Public Prosecutions and the Police Force's Legal Advisor.
Speaking through his Attorney Euclin Gomes, McCoy introduced himself to the Court as an unmarried well-known Guyanese Journalist. Gomes told the Court that he had received information that two statements submitted to the police by McCoy were not included in the file sent to the DPP.
He said that amounts to denying his client his right to due process and asked that he be released on his own recognizance. That request received the objection of the Prosecution and McCoy was granted bail.
McCoy who was charged earlier this year for the assault of another political activist and is under investigation for the murder of a third political activist, is claiming political persecution by the government.
But in the latest case, he is going up against Mark Benschcop who was jailed under the PPP for treason although there was little evidence to support that offence. He was later released through a pardon by then President, Bharrat Jagdeo.
Benchcop  who was at Court this morning for the hearing, told reporters after the charges were instituted that "moon a run till day ketch am… King Kong has fallen." He said he is happy that justice may have been delayed but not denied and an active investigation was underway.