The Food and Agriculture Organisation of the United Nations is supporting the Guyana Rice Development Board's efforts to advance technology in the rice industry.
A new project using drones to assist small farmers with their rice farming and monitoring has been launched. The project forms part of China South-South Cooperation Programme.
The project commenced with the handing over of five drones and related software and accessories to the GRDB along with two weeks of training on the use of the new equipment.
In a statement, the FAO said the initiative is in response to recovery from the impacts of COVID-19 for countries of the Community of Latin American and Caribbean States (CELAC).
The main aim is to support rural livelihoods and food systems so that smallholder farmers in rural communities can increase their competitiveness.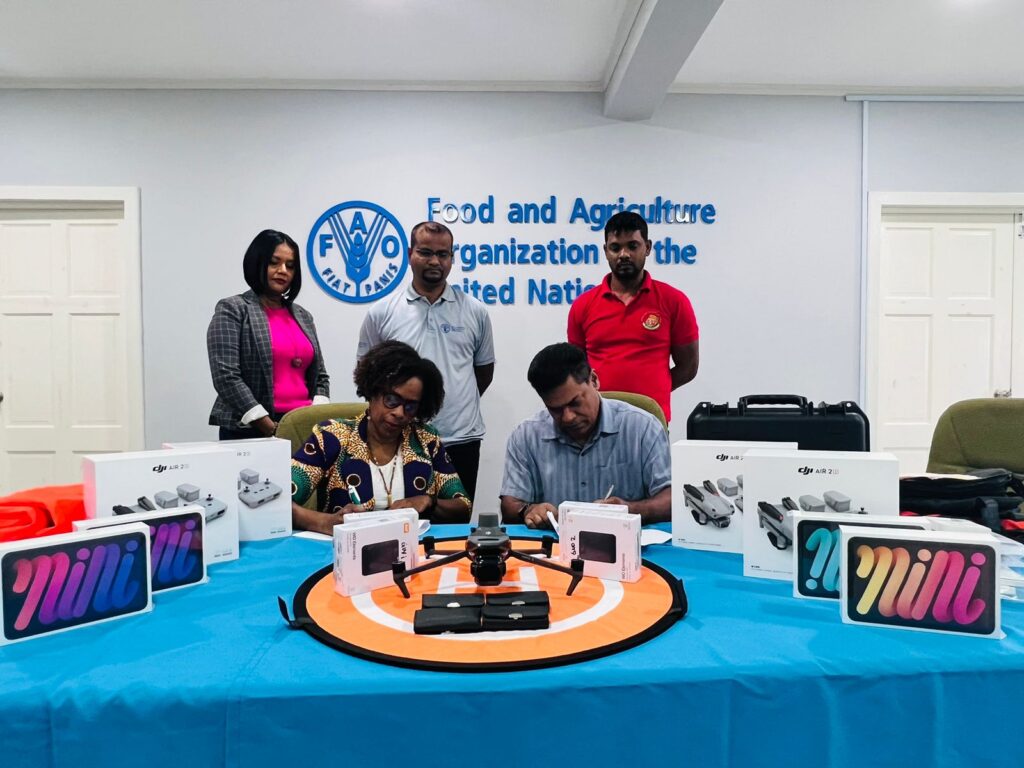 According to the FAO, introducing drones and a geographic information system (GIS) mapping in Guyana will allow rice farmers to comprehensively monitor their production plots during the various growth phases in a timely manner and provide data for key decisions needed to improve and advance rice production.
"We have completed two weeks of training to fly the drones, this will help me and my colleagues with data collection and monitoring of rice fields so that we can give farmers real-time advice to make good decisions as it relates to their crops," Quacy Wilson, Extension Officer of Region Five.
GRDB Extension officers from Regions 2, 3, 4, 5, and 6 attended the training.
In the first week, virtual training was done to cover the theory of unmanned aerial systems (UAS) hardware, applications, maintenance, and preflight planning.
The second week entailed in-person training which covered areas of safety guidelines, maintenance, mission planning and execution, best practices for UAS operation, practical flight training, and handling emergencies and data management.
The new initiative is expected to also help with land, water, and fertilizer usage and further help to assess impact in the event of a disaster.