The assault of a prisoner by prison officers at the Lusignan jail was one of the main reasons behind yesterday's unrest by prisoners which resulted in fire being set to one of the wooden buildings at the facility.
According to the Director of Prisons, Gladwin Samuels, two prisoners got into a conflict and during a probe of that incident, one of the prisoners was allegedly assaulted by a group of prison officers.
"The prisoner was escorted into the prison yard and based on investigations so far, he was again assaulted", Mr. Samuels said.
That assault reportedly took place in front of other prisoners who became hostile and started an unrest.
When the Officer-in-charge was summoned, the prisoners reportedly said they would calm down if a quantity of marijuana, rum and a cellphone that were earlier seized from another prisoner are returned to them.
The Officer-in-charge did not agree to the return of anything and the unrest became louder and within minutes, a section of the prison was set on fire.
The Prison Director said the quick response of the Fire Service and the Joint Services ensured that the situation was brought under control quickly and none of the prisoners was able to escape.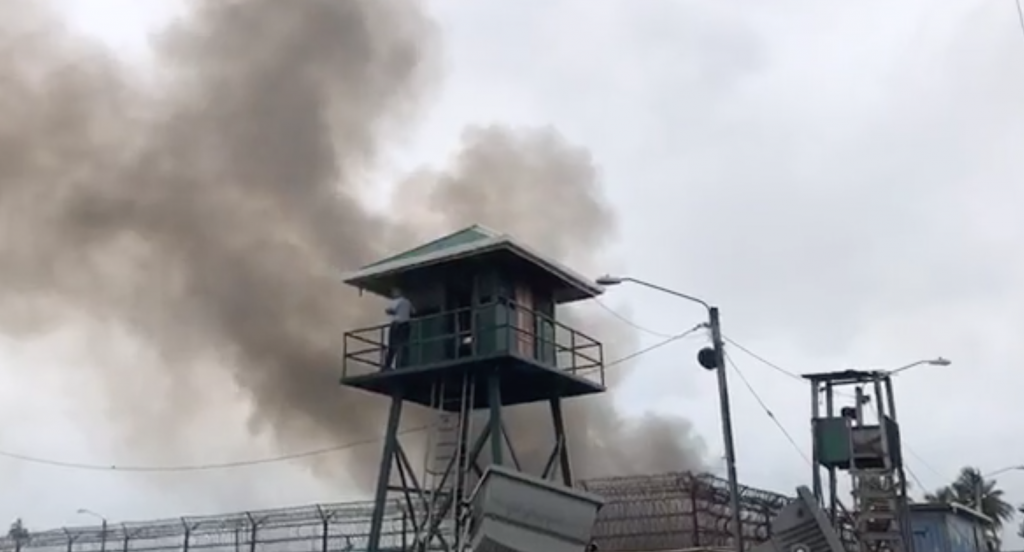 He said the officers who were fingered in the assault of the prisoner have since been removed from duty at the Lusignan prison as an investigation has been launched. A separate investigation into the fire that gutted one of the prison buildings is also taking place.
Mr. Samuels said the situation forced the relocation of over 100 prisoners to the Camp Street prison, the Timehri Prison and the Mazaruni prison.
As part of the response yesterday, members of the Guyana Defence Force were called out to provide additional security. A total of 11 prisoners suffered injuries, but none of those injuries were serious.
The Prison Director said the security situation at the prison remains on high alert as it has been for several weeks now.