Police investigators this morning arrested four hijackers and freed a taxi driver after a daring chase through the city that ended in an armed confrontation and two of the suspects being injured.
A Police statement indicated that around 2:59 this morning, Police ranks received information of a robbery along Lamaha Street.
Patrols were alerted and were able to track down a motor car bearing registration number PSS-2705 along the Agricola Access road on the East Bank of Demerara.
When the Police attempted to intercept the car, the driver increased its speed and headed towards the city. The car collided with barricades on the roadway in the vicinity of Hunter Street and Mandela Avenue.
The car came to a halt and four male suspects were seen exiting the car. It is suspected that the men open fire on the Police and the Police returned the gunshots, hitting two of the suspects.
One of them who was identified as Rawle Franklin was seen on the roadway bleeding from his injuries. Another suspect, who has been identified as Andrew Newyear was spotted a short distance away with gunshot injuries.
The other two suspects were found hiding out in a nearby yard. Their names have been given as Emmanuel Hale and Hamza Samuels.
The Police said two handguns and other items were discovered at the scene.
As the Police examined the crime scene, they also discovered the owner of the car stuffed in the trunk.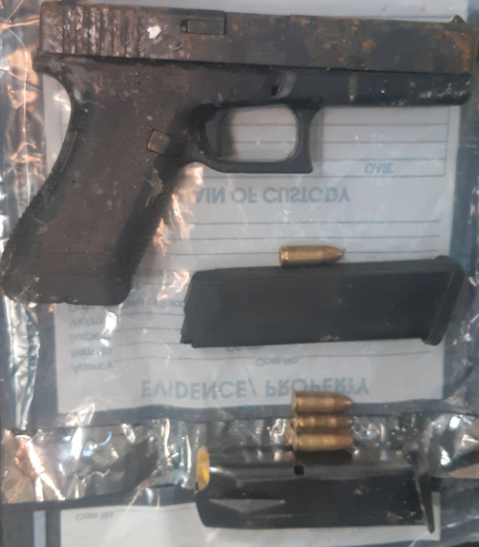 The man explained that earlier in the night, he had been held at gunpoint by the suspects and forced into the trunk of the car where he remained during the Police chase and the shooting when the car slammed into barriers.
He also provided details of the incident.
The two injured suspects were taken to the hospital where they were admitted under Police guard as their gunshot injuries were treated. The other suspects remain in Police custody and the four are to face charges soon.