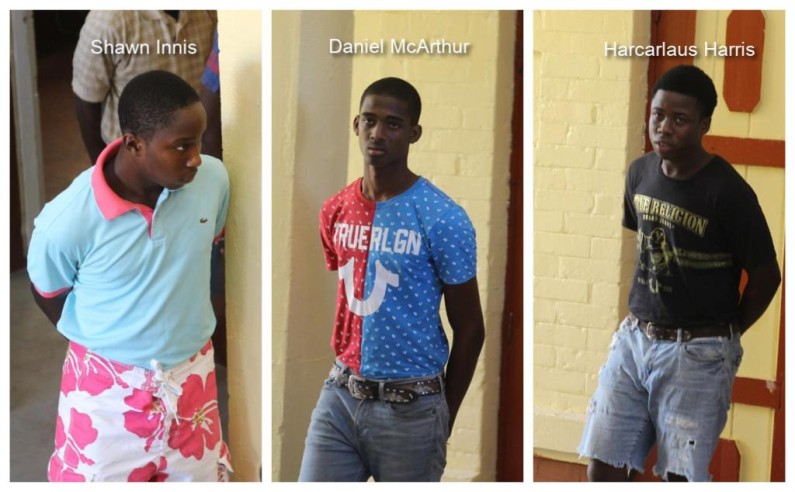 Three young men, who are all 18-years-old, were remanded to jail on Friday after being charged for robbery with violence.
The three men, Daniel McArthur, Shawn Innis, and Harcarlaus Harris are accused of robbing Elton Luckhoo of his Samsung s9 phone and his iPhone 7 which together carry a cost of $298,000.
The entire incident was captured on CCTV cameras on October 17 as the victim, Elton Luckhoo was standing at the mini-bus park along Croal Street in the Stabroek market area.
The Prosecutor told the Court that as the young man was on his phone when the teens walked up to him and snatched the phone.
Luckhoo gave chase behind them and caught up with them on Camp Street, where it is alleged the three accused surrounded him and stabbed him to his back and shoulder before relieving him of another phone that he had in his possession.
The victim was rushed to the hospital as the teens escaped. However, the Police were able to use the footage from the CCTV cameras to identify the teens and later arrest them.
All three of the young men pleaded not guilty to the robbery with violence charge and were all remanded to jail until the 29th November when the matter will continue.
One of the accused, Daniel McArthur was slapped with an additional robbery charge in connection with another phone snatching incident. He also pleaded not guilty to that charge and was also remanded to jail until next month on the separate charge.