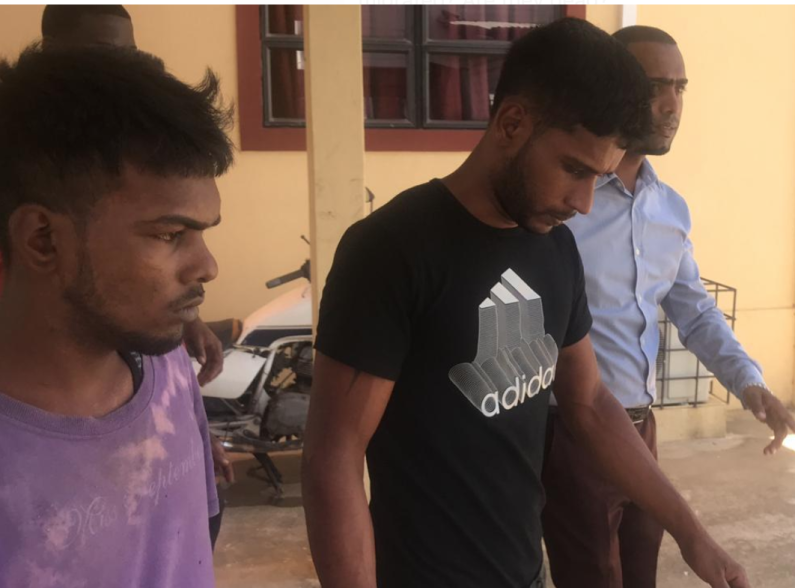 Two weeks following the discovery of the bodies of two Corentyne, Berbice fishermen and the disappearance of two others, investigators have made a breakthrough in the case and have arrested and charged two men for the murders.
Other suspects are being sought.
Appearing in Court this morning were 30-year-old Narine Dhanraj of Belvedere and 22-year-old Suresh Sundat of Belvedere Squatting area.
They were charged for the murders of fishermen Vishnu Seeram, Marvin Tamasar, Lamar Petrie and Ajai Kissoon.
The bound bodies of Seeram and Kissoon were discovered when they washed up on the seashore. The bodies of the other two fishermen are yet to be recovered.
The two who appeared in Court today are accused of attacking the four fishermen out at sea and chopping them about the body before dumping their bodies overboard. They were not required to enter a plea to the indictable murder charges.
The suspects have reportedly told investigators that their intent was to only rob the fishermen, but that plan changed once they boarded the fishermen's vessel and attacked them and the fishermen put up a fight.
The fishermen departed #65 village on the Corentyne coast on the 5th of October for a two-week fishing trip but never returned.
Days later the bodies of two of the fishermen were found, while a search continues for the bodies of the other two.