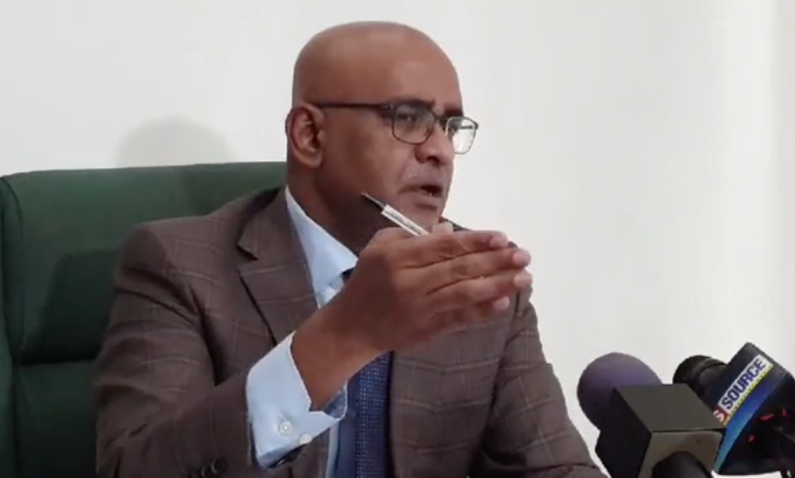 Opposition Leader Bharrat Jagdeo today expressed surprise and disappointment at the decision of the Chairman of the Elections Commission Claudette Singh on the issue of registered persons who have not uplifted their ID cards in more than 10 years.
The GECOM Chair at the Commission's meeting yesterday ruled that those persons who have not collected their National ID Cards since 2008 will get 21 days to pick those cards up or be struck off of the voter's list.
Mr. Jagdeo said such a move would be illegal.
"Clearly this decision is illegal, it is an illegal one", the Opposition Leader told reporters.
Speaking at his weekly solo press conference, the Opposition Leader said the matter should not be treated as if its an objection since "if you have to file an objection, you can do so during the Claims and Objections period. Why doesn't APNU file an objection to people's names. That would be a legal route to take".
He said it is clear in his view that there is an attempt by some at the Guyana Elections Commission to remove the names of persons from the voter's list through a "backdoor process".
"If you file an objection, that means GECOM is required to follow a process and that process can result in the person being removed from the voter's list, but you cannot file an objection on the basis of you can't find the person or the person is not resident in Guyana. The Chief Justice has already ruled on the issue", Jagdeo said.
Jagdeo issued a call for the Chairman of the Elections Commission to explain her decision. He said she needs to answer why she sided with three of the Commissioners in a process that he believes could disenfranchise thousands of Guyanese.
"I don't understand how this decision will ever stand", he said.
He said his concerns are not political but rather about maintaining the fairness of elections and allowing all eligible voters to cast a ballot on elections day if they wish to do so.