The government ministries appear to be coming up against each other big time as they gear up for Mashramani.
The Ministry of Public Infrastructure today launched its Mashramani band, representing the Ministry's cooperation, celebration, development, and expansion of Guyana's emerging green economy.
Eight models, all of them staff of the Ministry, presented the costumes, with Minister of Public Infrastructure, David Patterson, and Minister within the Ministry, Annette Ferguson, on hand for the launch.
Both ministers lauded the costumes and opined that the costumes will be one that will set the Ministry apart from its competitors.
Marvelling at the costumes' designs, Minister Ferguson commended the designer, Nelsion Nurse, for developing a concept that was vibrant and one which met the Ministry's vision. She also thanked the Ministry's Mashramani Planning Committee and the participating agencies for stepping up to the plate and ensuring the Ministry's involvement in the annual event.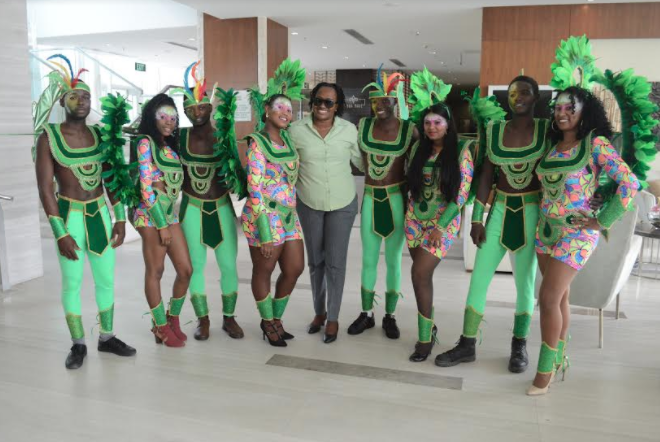 The Ministry will be participating in this year's costume and float parade as a medium sized band.
As a result, 100 staff members from a number of agencies, including the Guyana Energy Agency, Cheddi Jagan International Airport, Transport and Harbours Department, Guyana Civil Aviation Authority, Demerara Harbour Bridge Corporation, and the Maritime Administration Department, will become revelers as Guyana celebrates another republic anniversary.