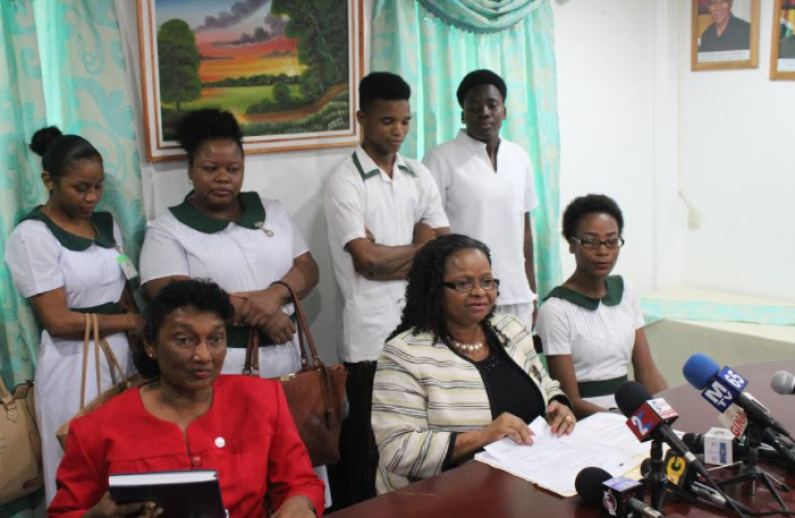 One hundred and fifty nursing students from the nursing schools across Guyana are to re-sit the multiple choice aspect of the 2016
State Final Examination for Professional Nurses
.
The Ministry of Public Health after holding discussions with the General Nursing Council and student representatives arrived at an agreement to address the pending issue and move forward with future examinations.
The Ministry of Education will now act on behalf of the Ministry of Public Health to engage its personnel to prepare the multiple choice questions. The students will have to sit the exams on

February 21

.
Minister of Public Health, Volda Lawrence, today announced that a group of persons will be recruited to mark the essay part of the questions and on the
February 28
, the results from the Examinations will then be presented to the Ministry of Public Health.
The results will be made available to the students by March 2, 2017.
Minister Lawrence explained also explained that the General Nursing Council has agreed to provide tutoring as a form of preparation for the nursing students. She emphasized that not all the students did both parts of the examination, therefore it's only for those students who would have written the multiple choice aspect.
On October 19 and October 20, 2016, the Final Examination was admitted it was subsequently discovered that the Clinical and Functional examination papers
were leaked.
A probe was launched into the leak. The main suspect for the leak no longer lives in Guyana. 
When talks of re-sitting the entire examinations initially surfaced, some of the students objected, claiming that they were not all privy to the leaked papers. 
The 2016 State Final Examination administered by the General Nursing Council is administered to students from the St. Joseph Mercy Hospital which is privately run, the New Amsterdam School of Nursing, Georgetown and the Charles Roza School of Nursing.
The 2016 Examinations comprised 250 professional nursing students
.
(Handel Duncan)