In a fiery speech on Friday night at a Public Meeting at Wismar, APNU+AFC Member and former Regional Chairman Sharma Solomon implored his fellow Lindeners to focus on moving forward and never to allow Guyana to return to PPP rule.
"Forward Ever, Backward Never", the crowd chanted as Solomon told them that "my message to you Linden is that we cannot, we must not and we could never go back".
Mr. Solomon said there is no other part of Guyana that should know of reasons not to go back to the PPP than Linden.
It was under the PPP government that three Linden protesters were shot dead by the Police. The shooting led to weeks of protests in the community and the deployment of the Guyana Defence Force to keep the peace as buildings were set on fire and main bridges were blocked in protest of the police killing.
Solomon was the Regional Chairman at the time and was instrumental in hammering out an agreement that brought the protests to an end.
In his speech on Friday night at the APNU+AFC Public Meeting, he said Linden has a lot at stake and must, therefore, focus on its future and that future is best with the incumbent coalition government.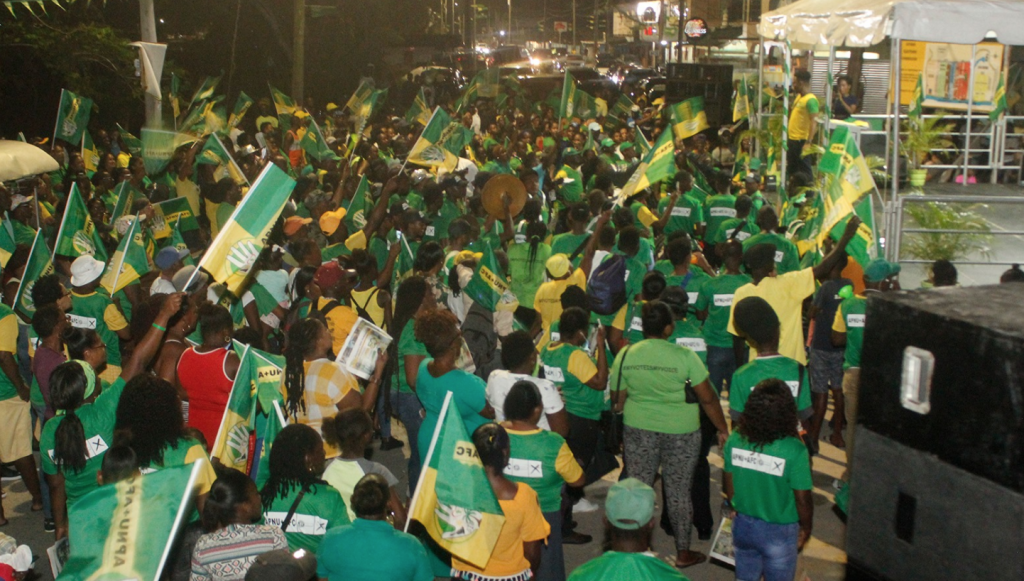 "We have before us now, a new revolution and it is an economic revolution. We cannot like the revolutions before ours, not recognise what made them fail, it was because we could not hold it together, but Linden we know how to hold it together", Solomon said.
As the PPP rolls into Linden today with its rally, Solomon said Lindeners should protest by staying away, sending a clear message to the PPP that Linden will not allow its revolution to fail. He noted that it was just a few months ago that the PPP gave the impression that the sky was falling and the entire country was in chaos,"but now they want to lead again".
Solomon also said that as Guyana has become an oil-producing nation, the management of that resource is best with President David Granger and therefore Linden must continue to throw its support behind the President and the APNU+AFC coalition.
The APNU+AFC will be hosting two rallies in Linden.